Glass Walls & Partitions at our Watford Showroom
Have you been searching for high quality glass partition walls for your home? Then look no further! Here at Doors4UK, we have a full range of glass wall partitions ready to be measured up and installed with precision and care. We can hand customers a glass partition wall for either commercial or residential buildings, where our team will alter their approach to guarantee a smooth and effective fitting no matter the structural framework they're working within.

Our current reach for glass partition walls stretches across London, Surrey, Kent, Hertfordshire and Middlesex. Simply reach out to our team and we can discuss what we currently have available for glass wall partitions in much greater detail. From the moment you make contact, we will help design, produce and install the perfect model which fits with your specific needs.

If you're looking to establish a contemporary vibe across your home, you can do little wrong than installing a brand new glass partition wall. Having these in place will open up rooms and help extract natural light in seamless fashion. This can also help you save tons of money each year, as your building will become far more energy-efficient, as you won't need to call upon electrical appliances to keep rooms suitably lit. The summer months are when glass partition walls really start to add some serious value!
Glass Partitions & Walls
Top hang

Sliding Track System

- the perfect option for residential projects
On wall

Sliding Door Gear

with clear glass walls to create a better space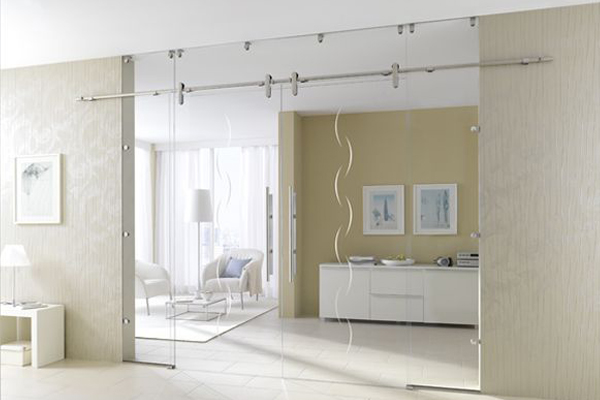 Frosted (opaque) glass

sliding doors with side panels

TVIN 2.0 system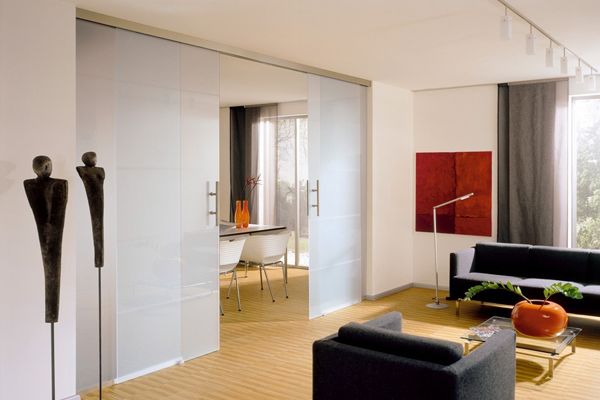 Single Glass Sliding Partition Walls
Wave Type 8 Sliding Door with Frosted Side Panel
Door set: Wave type 8 on a frosted glass door, frosted side panel,

TVIN 2.0 sliding system

,
U-profiles for the side panel, round flush handles M70mm - hardware finish - stainless steel
Price starts from £1,260.00*
Lista Due Sliding Door with Side and Top Panel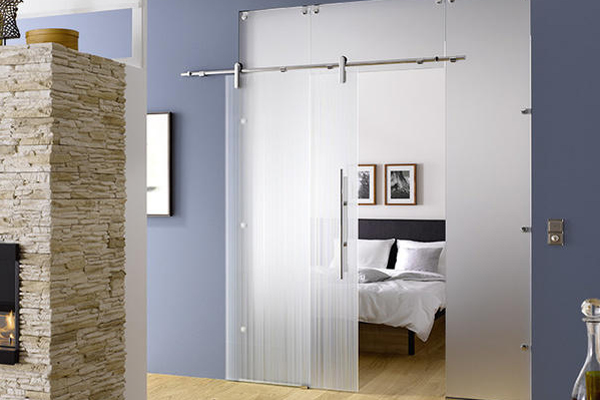 Door set: Lista Due 3D glass door, frosted side and top panels,

Edition Style sliding system

,
spider glass stabilizers, U-profiles for side panels, bar/flush handles - hardware finish - stainless steel
Price starts from £4,356.00**

Double Sliding Glass Partition Walls
Alinea on Clear Glass Sliding Double Doors
Door set: Alinea on clear glass double doors,

TVIN 2.0 sliding system

, bar handles of 420mm
hardware finish - stainless steel
Price starts from £1,679.00*
Struktura Glass Pocket Double Doors
Door set: Struktura type 1 glass double doors,

Serie A pocket system

,
white laminate frame and architrave, bar handles
Price starts from £1,703.00*
*Prices excl VAT and transport and are for opening dimensions up to W1950mm x H2050mm
**Prices excl VAT and transport and are for opening dimensions up to W2900mm x H2450mm

Why You Should Install Glass Partition Walls
Glass partition walls offer a multitude of benefits and can be added to a number of different rooms. Within an office setting, a glass partition wall can help establish a professional aesthetic, something which will create a prominent first impression when people arrive for meetings. You'll also find their installation won't compromise any existing features you have as they slot into place without the need to make structural alterations in other parts of the room.
We can hand you bespoke made glass partition walls which have been purposely manufactured to fit your requirements. Further to this, additional features such as enhanced opening functionality and soundproofing means we're able to supply high quality products no matter who we serve. A glass partition wall also comes with a number of functions, whether that be separating rooms or improving the general functionality of buildings when sliding mechanisms have been incorporated.

More character can be added with the installation of a glass partition wall since decorative models can be made available where picture frames are included. This means photos or motivational quotes can be featured across the main structure.

Our glass partition walls come in a variety of glass designs, which includes clear, frosted and many more. Your company logo can also be printed onto the glass for a truly polished look at the entrance of your office. Health and safety requirements have also been considered, which means our glass is toughened to the fullest extent.

Contact Our Glass Partition Walls Specialists Today
Want to learn more about what we offer for glass wall partitions
Then contact our team today
Contact Us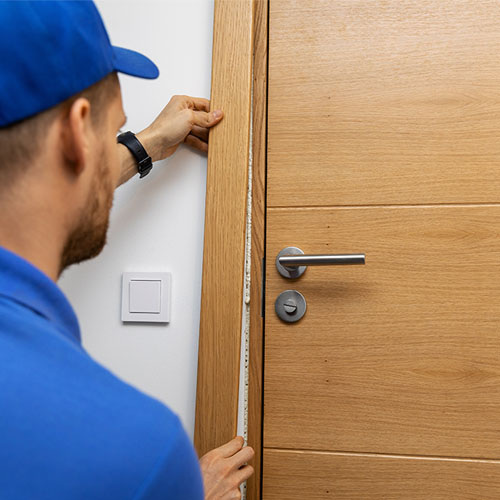 why choose us
An increasing number of people are turning away from plain ready-to-paint, unvarnished or inexpensive wood imitations internal doors from the DIY stores. Real wood and laminate (man-made veneer) doors comprise the new trend of made-to-measure doors and frame/lining, which are making their entrance to UK modern apartments and houses.
We Care About Your Project
Doors4UK provides a complete service to take you through the entire process of buying German Door Sets. We offer 2 Years Workmanship Warranty for any products that are fitted by us. This is because the company is keen to build long-lasting relationships. At Doors4UK, we understand that no business can stand for long without having fully satisfied customers.
Competitive Transport Cost
Doors4UK has chosen to work with transport companies based on reputation, so we can ensure that we can get a reputable and reliable transport service and financial cost, no matter how large or small your order is. Most of our products are shipped by pallet due to the size and weight of the wooden and glass doors. The carriage charge depends on the size of the order, goods ordered, and delivery address.
Doors4UK is able to manufacture extra wide and tall doors up to 1235mm in width and 2485mm in height. More than that, even wider doors (up to 2400mm) can be manufactured from two door leaves connected on site. Therefore, for those dimensions, the scale of the house is important, as extra wide and tall doors would look silly in a small apartment.