Made to Measure Internal Doors
A Great Selection of Custom Size Internal Doors
We truly believe that or made to measure door options have the potential to massively improve the look and feel of your home. One of the main factors around the value of our made to measure doors internal solutions would be the high quality materials which ensure they can remain structurally intact for many years to come after they have been installed.
The aim for our team is to supply a made to measure internal door which is not just about style, but also making sure they are equipped with the right levels of substance to suit both residential and commercial buildings. Some of the key areas we focus on would be
sound insulation
, moisture resistance, and making sure they are both smoke and fire proof.
What we Offer for Internal Doors UK
The options you will have for internal doors UK are fairly endless since we offer a huge range with different colours, styles and finishes. If you need even more stability, then we can also look into adding extra materials to help reinforce the internal door UK model you have installed. This will help with sound insulation and ensure you can retain heat effectively when the winter arrives.

Our internal doors are among the most structurally sound in existence, since they are engineered with a fill core that adopts a light construct, helping to increase the overall levels of stability in place. The marketplace is filled with amazing internal doors UK, giving the customer a broad choice when it comes to the designs which would best suit their interior.
Why Choose us for Bespoke Internal Doors?
From the moment you get in touch with us about bespoke internal doors, we will work directly alongside you all the way and help find the perfect models that suit your specific requirements. The staff we have here at Doors4UK are extremely knowledgeable for anything surrounding bespoke internal doors in terms of both the design and construction elements.
Whether you are speaking about bespoke internal doors with our sales consultancy team or our experienced fitters, we will always take a customer-centric approach to ensure you are consistently clear about anything you need clarifying. Anything we provide will also be responsibly sourced to ensure we can play our part in retaining a prosperous environment.

Made to Measure
Available with widths up to 1209mm and heights up to 2472mm.
Wider and taller doors upon request

Complete Service
Complete Service From Survey to Installation
Workmanship Guaranteed
All workmanship is guaranteed for 2 years for fitted products
Contact our Internal Door Specialists
To get more insight and to speak with a member of our expert team about internal doors
simply contact us today.
Contact Us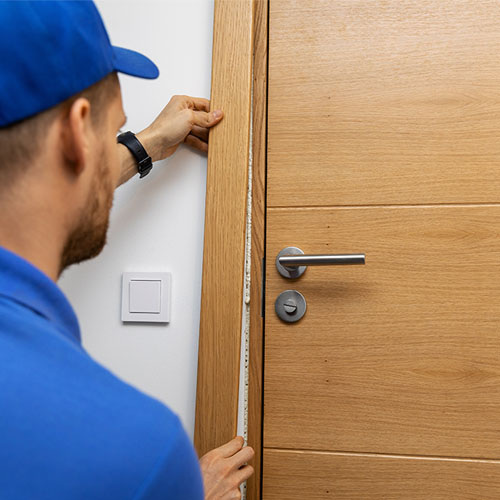 Your product is being added to your basket.
Please wait.