What is a pocket glass door?
The Pocket glass doors are made of toughened glass and each door is unique, representing the joy of living in opened and transparent spaces.
These glass doors are an innovation of the worldwide market, something new and special, with a fragile aspect, but in fact highly resistant. A glass door is made of toughened safety glass in standard thickness of 8mm and can be made to measure to your requirements. It can be manufactured as ESG or VSG with a wide variety of designs as a finished product, suitable for in-wall (pocket) installation.
A Fantastic Range of Toughened and Laminate Pocket Glass Doors

Complete Service From Survey to Installation
All workmanship is guaranteed for 2 years for fitted laminate door sets
For ESG and VSG information, please

click here.
For pocket sliding systems information, please

click here.
Sliding pocket system A120 can be used for single or double pocket doors with our without frame
Technical Drawing for Pocket Door Without Frame
For glass design,

click here
Technical Drawing for Sliding Pocket Door With Frame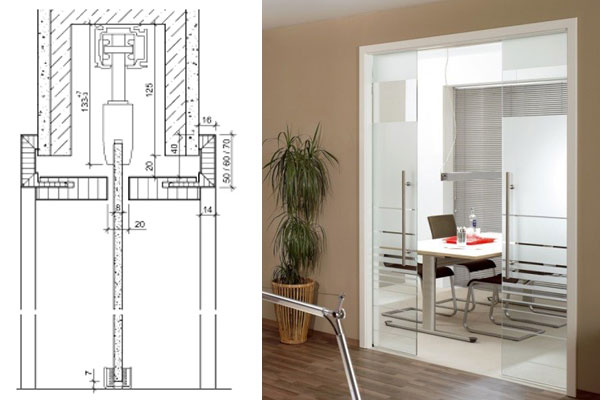 For glass design,

click here
The current 'in-wall' sliding system is not a new invention - we provide an up-to-date design with perfect functioning equipment for stringent residential requirements. The installation of a Pocket internal glass door is simple - the wall is installed by drywall installers quickly and easily. Even when renovating, a Pocket interior glass door is a great solution because it can fundamentally change the character of a room without major alterations. To cover wide openings, the perfect solution would be double sliding doors that slide away inside the wall, one to the right and the other one to the left.
Contact one of our Pocket Door Consultants for advice
We are the Experts of Wooden, Glass Door and Frame
Call 01923 800 111
Email: contact@doors4uk.co.uk
why choose us
An increasing number of people are turning away from plain ready-to-paint, unvarnished or inexpensive wood imitations internal doors from the DIY stores. Real wood and laminate (man-made veneer) doors comprise the new trend of made-to-measure doors and frame/lining, which are making their entrance to UK modern apartments and houses.
We Care About Your Project
Doors4UK provides a complete service to take you through the entire process of buying German Door Sets. We offer 2 Years Workmanship Warranty for any products that are fitted by us. This is because the company is keen to build long-lasting relationships. At Doors4UK, we understand that no business can stand for long without having fully satisfied customers.
Competitive Transport Cost
Doors4UK has chosen to work with transport companies based on reputation, so we can ensure that we can get a reputable and reliable transport service and financial cost, no matter how large or small your order is. Most of our products are shipped by pallet due to the size and weight of the wooden and glass doors. The carriage charge depends of the size of the order, goods ordered, and delivery address.
Doors4UK is able to manufacture extra wide and tall doors up to 1235mm in width and 2485mm in height. More than that, even wider doors (up to 2400mm) can be manufactured from two door leafs connected on site. Therefore, for those dimensions the scale of the house is important, as extra wide and tall doors would look silly in small apartment.