Manufacturer of
Interior Doors
and Frames with Laminate Surface, Recommended doors for Hotels and Hospitals. Discover the benefits of a Laminate Door
A modern internal door does more than dividing or connecting rooms. It has become an essential part of the furnishing. ASTRA laminated doors, with their diverse CPL surface designs, can be universally installed and meet all demands. These doors give solutions for the future. The Grauthoff Doors Group, (Trademark Astra) are CPL material specialists. We set the standard for the development of doors with high quality, durable, adaptable, unique and authentic doors. Our high level of production will never compromise on our promise of value. Our motto of NATURAL in the Astra door range brings new life to areas of living. We provide the perfect doors for use in homes, offices, and public areas. The perfect alternative to real wood veneer finishes, we produce the ideal laminate for everyday use - the CPL (Continuous Pressure Laminate) surface. Doors with this 'plastic top sheet' are resistant with the easy-to-clean, scratch impact and light resistant finish.
CPL (material thickness about 0.2 mm) is a multi-layer, electron beam cured laminate, similar to floors or kitchen counter tops. In a highly complex manufacturing process, these saturated cellulosic fibrous webs (paper) are pressed, continuously hardening under a heated melamine resin. The final protective layer is an overlay of exceptionally durable melamine resin.
A Fantastic Range of Laminate Doors and Door Sets Available with width up to 1209mm and heights up to 2472mm
Complete Service From Survey to Installation
All workmanship is guaranteed for 2 years for fitted laminate door sets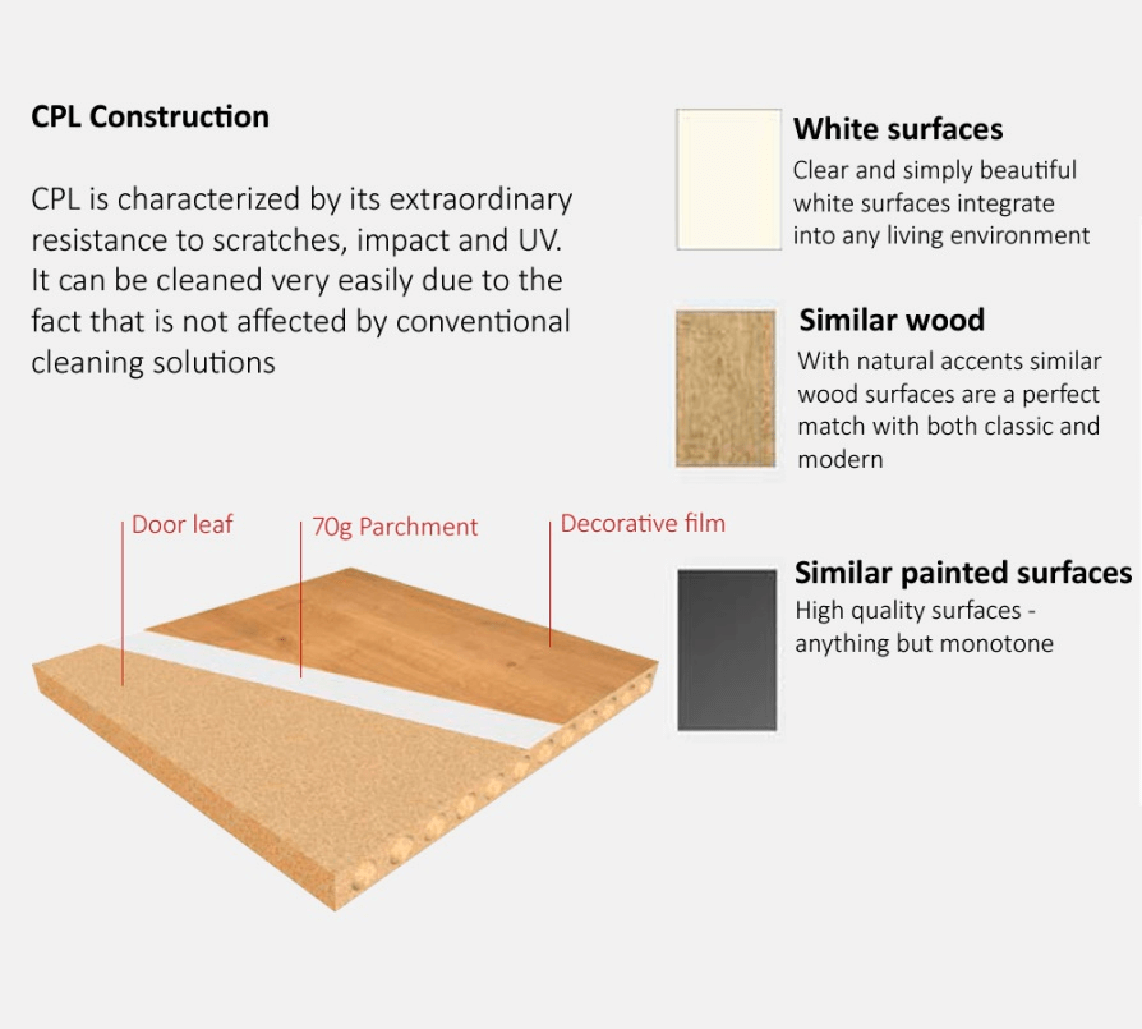 This result is a product with the following benefits:
- Resistance to UV light (no darkening no fading)
- Heat-resistant, resistant to steam
- Durable (scratch, pressure and shock resistant)
- Abrasion resistant
- Insensitive to stains
- Simple to clean, easy to care for
- Consistently beautiful appearance even after many years
- Long lifespan


ASTRA manufactures perfectly present wood in true-to-life replication – in a large range of products - using the latest modern production technology. Our doors are designed and produced by national and international experts culminating in the highest standard of quality consistent with our authentic features.
All four trademarks of Grauthoff Doors Group can be combined design-wise, accessories-wise or materials-wise. All Astra materials are simple to clean, beautiful, secure and innovative: This is the world of Astra Doors.
GRAUTHOFF is your competent partner for interior doors for every housing and hobby area. From the basement to the attic, we have the correct doors for you. A door is used more often than any other piece of furniture and can experience high stressed handling...
SO! – do not compromise on the quality, aesthetics and durability of your doors - ensure that you make the right choice of a good quality door which will enhance your living area for a number of years.