Manufacturer of Smoke Proof Wooden Doors
Bespoke Sizes and Designs
A Fantastic Range of Smoke-Proof Doors and Door Sets
Available with Width up to 1209mm and Heights up to 2472mm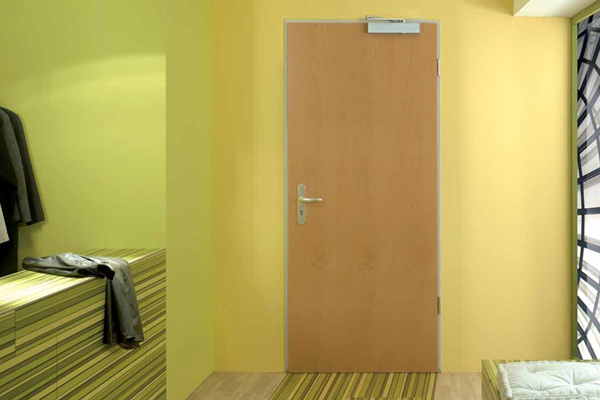 Beech Real Wood Veneer Smoke-Proof Door Set
Door set: Beech real wood veneer European Style solid door,
aluminium frame and architrave with a rubber seal,
factory fitted hinges and PZ lock, self-closer Geze 3000 and drop-down threshold
Starting Price: £1,347.00*
Pinea Silver Crosswise Laminate Smoke-Proof Door Set
Door set: Pinea Silver crosswise laminate European Style solid door,
aluminium frame and architrave with a rubber seal,
factory fitted hinges and lock, self-closer and drop-down threshold
Starting Price: £1,326.00*
*Prices excl. VAT and Transport and is for an opening up to 1000mm width, 2100mm height and thickness of the wall up to 100mm
Smoke-Proof Doors prevent smoke from spreading, they keep escape routes free of smoke and prevent the spread of smoke in surrounding areas. Special doors that are fire or/and smoke-proof are popular especially in buildings with high traffic such as schools, universities, hotels, department stores, office buildings, Indian gardens, hospitals, and banks. According to DIN 18095 'Smoke door' Part 1 'Definitions and requirement' and Part 2 'Test', smoke doors are self-closing doors designed and built in the closed position to prevent smoke spreading. The leakage rate is the key parameter for the tightness of a smoke door and must not be greater than 20m3/hr and 30m3/hr with leaf doors with double doors. Also, tested doors are airtight at pressure up to 50 Pascal. DIN 18095 is in most provinces, introduced by the building and thus applicable building regulations.

A major hazard is posed by the life-threatening smoke fumes that develop when a fire breaks out, often claiming more victims than the fire itself. Our wooden doors fulfill the standard as a smoke-proof door according to DIN 18095 (optional extra) and therefore they give long, sustained protection against smoke. There are many options of finishes within our range of colours available for smoke proof-doors. More than that, most of our glass doors can be manufactured with a self-closing system and floor seal (drop-down threshold), which are designed and built in a closed position to prevent smoke from spreading. Check our
smoke proof glass doors
.
Wooden Doors Self Closers

The self-closer for smokeproof doors is a high-quality mechanism with the following properties:
Suitable for interior doors up to W1235mm and 100Kg/door leaf
Ideal for high traffic doors, as it offers resistance when the door is opened with excessive force, preventing damage to doors
Delayed action
Adjustable power - Ideal for doors for which the exact weight and height are not always known, as this feature allows the closer power to be selected at the time of installation
Meets Equality Act regulations (BS 8300)
Dual handed and the universal fixing pack for push or pull side mounting
Closing and latch speed adjustments for a perfect closing action
60-minute fire rating
Complete Service From Survey to Installation
All workmanship is guaranteed for 2 years for fitted products

Smokeproof doors can be provided as European Style or British Style with different finishes such as laminate, real wood veneer or painted. A European Style interior door is a door leaf that is placed on the frame. The rebated door sets have a lip that overlaps the frame, providing a good seal against draught. This helps a room retain its warmth and, in the right conditions, can help reduce energy costs.


A British Style internal door is the door that is situated at the same level as the frame, creating a flush finish. The frame and architrave for European Style and British Style door sets come as finished products from the German factory and they can be supplied in the same finish as the door or in different finishes depending on customer needs and desires. The frame for both European and British style doors has a rubber gasket on stop of it that helps with soundproofing and it allows a smooth shut of the door. The rubber seal matches the finish of the frame and architrave. For complete sealing, this type of internal doors comes equipped with a drop-down threshold. The drop-down threshold is an automatic door seal. The sealing profile seals the door when closed by pressing it down on the floor.


Wooden doors, especially in institutions but also at home, should be smokeproof. This is because, in the case of a fire, this type of door is able to retain the smoke into the room and not let it spread further. This is very important for the fire to be ceased, as this door, besides not letting the smoke out, does not help with the transmission of air between the room neither. Thus, the fire does not receive enough oxygen, so it will stop quicker.

A smokeproof door, therefore, provides the security needed in order to create welfare, whereas hardwood doors provide the privacy needed in your room. Thus, these wood doors are suitable for a wide range of rooms and buildings, from bedrooms to offices. They are very practical and safer than usual doors that do not have the smokeproof feature. Thus, people would feel much safer if they knew there are smoke-proof doors in the building. Moreover, smoke-proof internal wood doors come with glazing possibilities, so you can create a more interesting design for your solid doors.
Contact one of our Door Consultants for advice
Call 01923 800 111
Email: contact@doors4uk.co.uk
Smokeproof glazing possibilities