If you need our help with sliding interior doors' installation,

visit our technical page

What exactly do you think becomes the most attractive thing whenever someone enters your house? It has to be your sliding glass door because of its unique appeal and it's the most amazing point of not taking extra space in your room. Internal Glass Sliding doors are expensive but the class and finesse they bring to your house are undeniable. The only requirement they have is that the glass is custom-made for the best possible fitting because of the size variations and design that the home design is required.
If you are looking for a full range of Made to Measure internal sliding glass doors with any finish on standard toughened safety glass or in our laminated glass which confers better stability, we are here to satisfy all your demands and provide you with nothing but the best. You name it regarding the width and height and we can manufacture and supply to it with our staff working hard to bring you what you have exactly imagined in your entrance hallway. Be it the most unusual or the most eccentric glass door that you want for your house, we are here to understand your needs and a chat with one of our staff members will put all your worries to rest. With the most unique and distinct collections are designs and styles, we are here to give you what nobody else in the market can even offer.
Contact one of our Glass Door Consultants for advice
We are the Experts of Glass Doors and Frames
Call 01923 800 111
Email: contact@doors4uk.co.uk
The best space-saving solution is a pocket door – a sliding glass door which slides discreetly into a space in the wall. This is also the best way to display your unique glass door. Regardless of whether you incorporate this element in the design of your new house or are interested in a retrofit, we have the solution. The door internal sliding system can be retrofitted through dry lining with the pocket system or on the wall whereby the finishes of white, stainless steel or aluminium are easily combined with the design of the room.
Sliding System Designs - For any type of toughened safety glass or laminated glass
*Prices excl. VAT and transport and are for a complete door set that can be accommodated in a clear wall opening with 950mm width and 2050mm height
*Prices excl. VAT and transport and are for a complete double door set that can be accommodated in a clear wall opening with 1950mm width and 2050mm heigh

You want more light in your home and enjoy having a view? Do you want functional elements coupled with artistic accents? Then the TVIN 2.0 systems are perfect with a sliding glass door from our range, which is the one for you. The advantage of the sliding system with sliding doors is at your fingertips due to the ease with what it slides and closes In addition to this, there is a soft closer so even if you slam the door, this system (soft closer) stops the internal sliding doors, then it moves slowly to the closing point. The sliding mechanism is hidden behind a pelmet barely 5 centimeters high, satisfying even the most adamant of purists. Also, space-saving and a homage to technology – the open sliding system which slides in front of the wall, finished in aluminium. The hidden system makes it the perfect addition to uncomplicated and clearly structured interiors. This system is also easy to retrofit and provides a sophisticated counterpoint to the decor of older buildings.
Common types of hinged doors often create "dead corners" in the rooms. An opened hinged door leaves no space for placing objects. Sliding glass doors offer better use of space. Formerly considered as an alternative for hinged doors they have become attractive objects of furnishing in their own right. Sliding systems are elegant and add some distinctive flair to the living space. In modern residential construction, you have to consider the many advantages of these doors.
Sliding Double Doors
All our glass designs and sliding systems can be used to create Sliding Double Doors
For more information,

contact us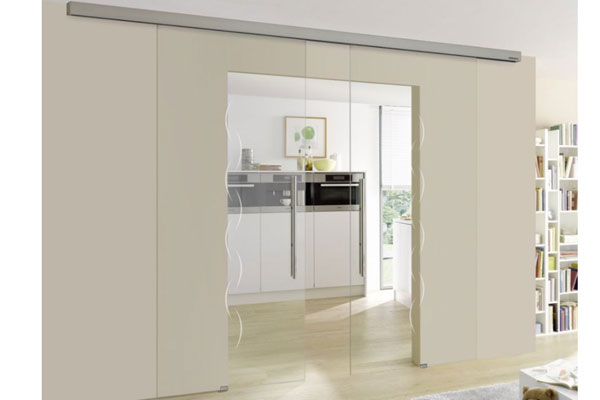 Alinea on Clear Glass Sliding Double Doors
Alinea glass double doors, TVIN 2.0 sliding system and bar handles
Starting Price: £1,526.00**
**Prices excl. VAT and transport and are for a complete door set that can be accommodated in a clear wall opening with 1950mm width and 2050mm height
Wall Partitions with Sliding Glass Doors
Glass Partitions
Double Sliding Glass Doors with Frosted Glass Side Panels
Sliding glass doors are the most versatile ones because of the numerous possibilities that give in creating glass walls with different glass designs and shapes. Majority homeowners are looking for clarity, transparency, and light for their rooms. Besides these benefits, it is always the modern look that the sliding glass doors bring with them when installing in any property. With our maintenance-free sliding systems is easier than ever to change the old wooden doors with contemporary sliding glass doors. Sliding glass doors aren't just utilitarian, they are also a statement in style. Picking the sliding system's finish and style is a matter of personal taste, but the glass design itself can really be an expression of individuality.
Sliding glass doors can cover large areas in your house. The modern days bring with them the necessity of energy saving and usage of the natural light. This is why the homeowners changed the wall that separates the living room and the dining area with a partition glass wall that integrates perfectly sliding glass doors.
more glass designs
why choose us
An increasing number of people are turning away from plain ready to paint, unvarnished or inexpensive wood imitations internal doors from the DIY stores. Real wood and laminate (man-made veneer) doors are the new trend of made to measure doors and frame/lining which are making their entrance to UK modern apartments and houses.
We Care About Your Project
Doors4UK provides a complete service to take you through the entire process of buying German Door Sets. We offer 2 Years Workmanship Warranty for any products that are fitted by us. This is because the company is dedicated to building lasting relationships. At Doors4UK we understand that no business can stand for long without having fully satisfied customers.
Competitive Transport Cost
Doors4UK has chosen to work with transport companies based on reputation, so we can ensure that we can get a reputable and reliable transport service and the economic cost, no matter how large or small your order is. Most of our products are shipped by pallet due to the size and weight of wooden and glass doors. The carriage charge depends on the size of the order, goods ordered, and delivery address.
Doors4UK is able to manufacture extra wide and tall doors up to 1235mm in width and 2485mm in height. More than that even wider doors ( up to 2400mm) can be manufactured from two door leaves connected on site. Therefore for those dimensions, the scale of the house is important as extra wide and tall doors would look silly in small apartments.