Sliding Door System for Pocket Doors
Do you find yourself living in a home that comes with a significant paucity in space? Then
have you considered pocket doors
? This is a great way to ensure you have designed any smaller buildings with precision as they can be easily installed into even the tightest of spaces. Any sliding door system for pocket doors will have the potential to save you around 10 square feet of floor space, which is more than likely needed to accommodate any furniture necessary to enhance the functionality and style within certain rooms.
Getting a sliding door system for pocket doors installed could not be easier since they come pre-assembled along with any required handles. Taking advantage of the summer months is also where pocket doors can excel with their capability of extracting natural light ready to create ambient atmospheres wherever you like. Even if they are installed within crowded rooms, they will be able to make these restricted areas feel slightly more open and expansive.
The option of completely opening up pocket doors or maintaining a sense of isolation can be achieved with immense ease. You can therefore be sure that the means to either restrict or tighten up the vibe around your home is something you have full control over. The door will simply slide away and slot into the mainframe of the wall, giving you more space when you don't need to have them closed for either privacy or security reasons.
We Offer the Finest Pocket Doors UK Products
Whenever you are using conventional doors, you will soon realise just how much space they can needlessly take up when they are opened and closed. To ensure you are never causing obstruction unnecessarily you will need to ensure services for pocket doors UK are at the centre of your home's layout. With the capacity to slide away into a partition, you wont need to swing your door inwards and outwards to achieve either privacy or gain access.
With quality craftsmanship acting as the key ingredient for any pocket doors UK we supply, you can be sure that navigating your home will become a seamless exercise, helping you to create a highly proficient environment for everyone. Also, having glass doors can offer people a compelling entry as they walk into dining rooms or a parlour. Setting the right impression is only something that can be achieved to its fullest extent when you have thought carefully about how your doors come into the equation!

We will take a very close look at the style and functionality currently in place within your rooms and decide upon the best course of action to suit your specific needs and requirements. Our biggest concern is that any pocket doors UK are manufactured to blend with your current aesthetic and help bolster the manner in which you move around your home in the most effective way possible.

If you opt for a glass pocket door, then they will come with a number of frame options. This will include frames for standard wall depth of 140mm up to 450mm, and then thicker alterations which are made up to 900mm thick. Any architrave for this system will need a depth of 50mm, 60mm or 70mm, depending on the finish you have chosen. These doors are equipped with hardware and special framing which can be bought separately from the door. Whether you have a flat surface, panelled hollow or solid door, this can easily be matched to other doors in a dwelling.

Contact Our Pocket Door Specialists Today
Take advantage of our door specialisms today and you will soon be able to kit your home out with the most effective and stylish models on the marketplace.
If you want to speak with our team, then feel free to get in contact.
Contact Us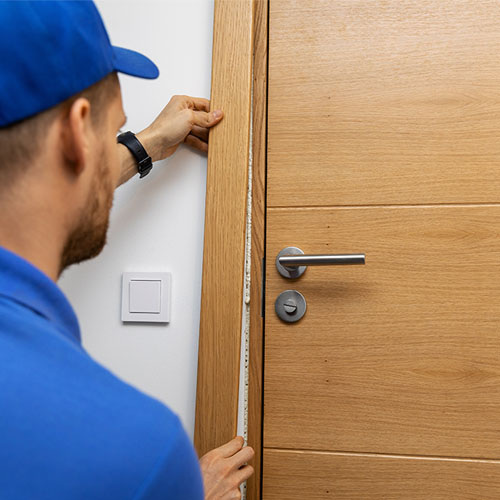 From the start of the project, the Sales Consultant was very helpful and gave lots of a advice. The two Fitters were excellent and would not leave until the job was completed entirely to their satisfaction and ours, and they left the site clean and tidy. We are extremely pleased with the result.
Thank you, Mrs. and Mr. H.
The Contract Manager came and measured up and was very helpful. We have now got used to our glass sliding doors and are very pleased with them. I believe the installers took some photos of sliding door when they finished the installation, if you want any more please let me know.
Thank you for an excellent job. Mr. S
The glazed doors fitted are the top most quality, very impressed with the finish. The product is excellent too. The sales team helped us deciding the doors, frames and hardware which came with the excellent fitting service. You all have deep product knowledge too. Definitely, I will recommend.
Thank you. Mr. P.
why choose us
An increasing number of people are turning away from plain ready-to-paint, unvarnished or inexpensive wood imitations internal doors from the DIY stores. Real wood and laminate (man-made veneer) doors comprise the new trend of made-to-measure doors and frame/lining, which are making their entrance to UK modern apartments and houses.
We Care About Your Project
Doors4UK provides a complete service to take you through the entire process of buying German Door Sets. We offer 2 Years Workmanship Warranty for any products that are fitted by us. This is because the company is keen to build long-lasting relationships. At Doors4UK, we understand that no business can stand for long without having fully satisfied customers.
Competitive Transport Cost
Doors4UK has chosen to work with transport companies based on reputation, so we can ensure that we can get a reputable and reliable transport service and financial cost, no matter how large or small your order is. Most of our products are shipped by pallet due to the size and weight of the wooden and glass doors. The carriage charge depends on the size of the order, goods ordered, and delivery address.
Doors4UK is able to manufacture extra wide and tall doors up to 1235mm in width and 2485mm in height. More than that, even wider doors (up to 2400mm) can be manufactured from two door leaves connected on site. Therefore, for those dimensions, the scale of the house is important, as extra wide and tall doors would look silly in a small apartment.