Doors4UK - Featured on Houzz for Best Service 2016
Find out the right doors for you which can be as
black internal doors
or glass doors. Most of the doors can be done as double with or without glass. Doors4UK is the perfect glass and wooden doors supplier where you can find the doors for your home. The company supply and fit various types of wooden and glass doors. The range below will help you decide what is best and complements with your home design. Spoil yourself with a door of genuine wood from Doors4UK to express your personal style! Traditionally these doors are produced with a typical wood grain and lengthwise veneer. The modern alternative to use a cross wood grain veneer with a matt-lacquered-surface has become very popular in the last few years. This way its extraordinary and natural character is emphasized to its best. The complete concealed TECTUS hinge system for non-rebated interior doors is the newest innovation in hinge technology on the market. The high performance and heavy-duty Concealed hinges are three dimensional in adjustability available only from Simonswerk which supplies our factory in Germany, Grauthoff Door Group. Doors4UK are pleased to announce the launch of a new range of Doors Sets with TECTUS Concealed hinges which makes possible to achieve uninterrupted flush-faced surfaces on the hinge side of the door creating a visual, harmonic, overall interior design impression. The doors produces by us in Germany use the beautifully concealed TECTUS hinge, bringing a noble simplicity to the living space.
A Fantastic Range of German quality Doors and Door Sets Available
Complete Service From Survey to Installation
All workmanship is guaranteed for 2 years for fitted products
Doors4UK can take care of everything. Tell us your needs and we'll advise you on design, materials, surface finishes, soundproofing, fire safety, and performance issues. We'll then measure your doorways, and arrange the construction of your doors and matching frames. Depending on the size of your order, average lead times are six to eight weeks from your order date. To ensure a perfect match of door and frame, a perfect fit and a flawless surface, we supply all our products pre-finished. There is no finishing or decorating for you to do. Specially trained craftsmen will install the doors and frames, a process which normally takes 1/3 the time taken by the traditional method of installation.
Why Choose Us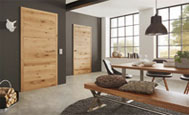 Complete Service From Survey to Installation
Doors4UK provides a complete service that is made of five steps to take you through the entire process of buying German Door Sets and make the process very easy and enjoyable. Our doors are custom design and manufactured to fit your personal style to highlight the artistic appeal of your personal space.
We Care About Your Project
Doors4UK offers 2 Years Workmanship Warranty for any products that are fitted by us. This is because the company is dedicated to building lasting relationships. At Doors4UK we understand that no business can stand for long without having fully satisfied customers.
Competitive Transport Cost
Doors4UK has chosen to work with transport companies based on reputation, so we can ensure that we can get a reputable and reliable transport service and the economic cost, no matter how large or small you order. Most of our products are shipped by pallet due to the size and weight of wooden and glass doors. The carriage charge depends of the size of the order, goods ordered, and delivery address.
Doors4UK is able to manufacture extra wide door up to 1235mm and the height of 2485mm is definitely a nice and expensive feature. More than that even wider doors( up to 2400mm) can be manufactured from two door leafs connected on site. Therefore for those dimensions the scale of the house is important as extra wide and tall doors would look silly in small apartment.
German Quality Doors and Door Sets
An increasing number of people are turning away from plain ready to paint, unvarnished or inexpensive wood imitations internal doors from the DIY stores. Real wood and laminate (man-made veneer) doors is the new trend of made to measure doors and frame/lining of high quality veneer which are making their entrance to UK modern apartments and houses.