French Doors and Door Dividers
Make your Glass Doors the Feature of the House with Glass Room Dividers from Doors4UK
One of the most common challenges for handymen and homeowners would be the installation of interior French doors. When faced with this task, a great place to start would be browsing through the various products we have available, as we currently offer a wide scope of designs to suit very specific requirements. Some of the key differences within our range would be the size of opening and whether they will be placed within modern or traditional homes.

For example, we have internal sliding door dividers, which come as a glazed concept, adopting a screen panel on the side which appears most similar to external windows. And since doors are likely to incur wear and tear as the years keep passing by, we can supply brand new door dividers to ensure you can significantly improve any solidity which may have been relinquished.
See below some of the best wooden and glass room dividers
Door Dividers are best to get the light around the house
Interior French Doors White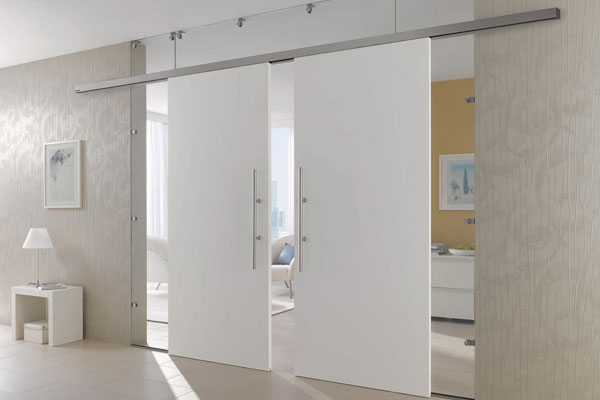 Sliding Painted Double Doors with Side and Top Panels
Veneer Door Divider
Walnut Veneer Sliding Door with Frosted Side and Top Panel
Sliding Doors Room Dividers
Atos Sliding Double Doors with Side Panels
Our Glass Room Dividers Provide Bright, Vibrant Atmospheres
Here at Doors4UK, we endeavour to supply both interior French doors and door dividers with exceptional features. To further enforce this, we also have the capacity to supply products which adopt custom solutions, made to reflect precisely what you're looking for. You can customise any French doors and door dividers to fit your aesthetic, whether that be contemporary or standard by design, allowing you to establish the perfect tone.

If you want a more vibrant atmosphere, then maybe look into glass door dividers, since they open up rooms and provide a prominent focal feature within your interior. With these door dividers in place, you won't need to call upon electrical devices to keep rooms suitably lit, instead drawing upon the bright condition we typically experience during both the spring and summer months.
Style and Solidity
It's important to remember how glazing internal doors shouldn't only be defined by their appearance. They also need to adopt the right inner core values, durability and stability, allowing for things like soundproofing to really take effect. To ensure this can be implemented, we supply products which come with a robust core structure. If you want versatile solid doors installed, then we have solid wood doors, which are specially made to emit natural heat, but also display sensitivity to fluctuation around changing temperatures, so rooms are kept comfortable all-year round.
*Price excl. VAT and transport for made to measure doors to fit in an opening up to 2000mm in width, 2500mm in height and wall thickness up to 160mm
**Price excl. VAT and transport for made to measure doors to fit in an opening up to 2000mm in width, 2100mm in height and wall thickness up to 160mm
Robust, Quality Core
Selecting the most appropriate materials is perhaps the biggest factor behind high-quality interior doors and door dividers, without which, you can't expect to have the thermal and sound insulation you want established. A typical door structure will consist of tubular or a full core, which is applied across the interior of each model. Stability will be significantly increased with the tubular core in place, and due to its light construction, handling is incredibly simple.
Easy Care and High Durability
The surface area for interior doors should also be about solidity, rather than placing more emphasis on just its appearance. One of the most impactful finishes would be a multi-layer solution, something which ensures easy care and high durability. You can also get door dividers and interior doors made from real wood veneer, which makes for a great choice if you're someone who wants a natural tone established. Whatever door dividers or interior doors you select, it's paramount to think about every aspect of the model for the most purposeful installation.
We Have a Variety of Materials Available
You can select from a wide range of materials for door dividers and interior French doors. We currently supply finishes in oak, walnut, beech and a variety of veneers. Your choice depends on the qualities you seek, but if its durability you want with door dividers, then wood can supply an abundance of structural solidity. Depending on the wood finish you have selected, you will be able to formulate very distinct nuances with styling.

Another great benefit for using wooden door dividers is how the surface can be improved with ease whenever treatment is required. Simple scratches can be repaired, and major paint jobs can also be completed if necessary. It's also common for people to select both glass doors and glass door dividers, simply because they adopt toughened finishes, often withstanding greater levels of resistance compared to conventional models.



Contact our French Door and Door Dividers Specialists
For further details about the range of French doors and door dividers we have available
simply contact our team today.
Contact Us