What is a Hinged Glass Door?
A hinged glass door will offer great resistance to water, salt solutions, acids, alkalis and organic solvent. The final result is a natural product for homes, offering enhanced safety all-round. The popularity for using a hinged glass door has increased the trend of including glass within a variety of models to enhance modern living.
The surface area across a hinged glass door is also incredibly hygienic, and shielding against both moisture and droplets will be in effect, which means the original colour will remain intact. Being equipped with a number of advantages pertaining to longevity, a hinged glass door offers a wave of style and simple maintenance.
Toughened safety glass will be used to enforce the solidity around the door on standard thickness of 8mm or 10mm, and we can also measure anything as per your specific requirements. Both ESG or VSG are available with a variety of designs, suitable for wooden or aluminium frame installation.


Learn More About the Hinged Glass Door
Any cutaways within a hinged glass door will be made to fit both hinges and handles. Here at Doors4UK, this will be professionally completed by our German based factory to ensure the final results are solid and filled with the style you desire. Since complex manufacturing processes are required, we use engineers from the Grauthoff Group, as this is the only way to ensure bespoke models can be constructed.
We can manufacture a hinged glass door in sizes starting from 350mm in width up to 1600mm, and a maximum height of 2500mm. You can choose a hinged glass door with or without hardware, frame and architrave. Whatever you select, we endeavour to supply efficient customer service from start to finish, giving you the perfect glass hinged door to suit your home's décor.

For more glass designs, please

click here
A Fantastic Range of Toughened Safety Glass and Laminate Glass Doors and Door Sets
Complete Service From Survey to Installation
All workmanship is guaranteed for 2 year for fitted products

Contact Our Hinged Glass Door Specialists
Doors4UK are always more than happy to discuss what we offer in greater detail.
Simply get in contact with our team to discover more about our hinged glass door products.
Contact Us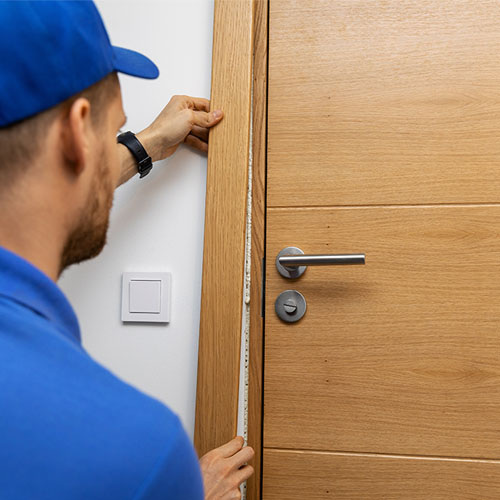 why choose us
An increasing number of people are turning away from plain ready-to-paint, unvarnished or inexpensive wood imitations internal doors from the DIY stores. Real wood and laminate (man-made veneer) doors comprise the new trend of made-to-measure doors and frame/lining, which are making their entrance to UK modern apartments and houses.
We Care About Your Project
Doors4UK provides a complete service to take you through the entire process of buying German Door Sets. We offer 2 Years Workmanship Warranty for any products that are fitted by us. This is because the company is keen to build long-lasting relationships. At Doors4UK, we understand that no business can stand for long without having fully satisfied customers.
Competitive Transport Cost
Doors4UK has chosen to work with transport companies based on reputation, so we can ensure that we can get a reputable and reliable transport service and financial cost, no matter how large or small your order is. Most of our products are shipped by pallet due to the size and weight of the wooden and glass doors. The carriage charge depends of the size of the order, goods ordered, and delivery address.
Doors4UK is able to manufacture extra wide and tall doors up to 1235mm in width and 2485mm in height. More than that, even wider doors (up to 2400mm) can be manufactured from two door leafs connected on site. Therefore, for those dimensions the scale of the house is important, as extra wide and tall doors would look silly in small apartment.