~ Modern External Front Doors ~
These doors are no longer available!!!!
You can be sure that our modern external front doors come with the aesthetic room accents needed to massively improve your exterior. Since we will be incorporating high-quality and easy-care wood veneer into our modern doors, you will have a multitude of compelling options available with sleek mixes of contemporary materials. A wave of innovation is also a prominent feature, giving you the capacity to satisfy singular prerequisites.

With our range of modern external front doors being manufactured in Germany, you will be able to work alongside us in order to craft a bespoke model perfectly suited to your building. Every design is unique and made to measure with handcrafting precision. Using cutting edge technology, our team can ensure inventive precision processes are used to construct any designs.

You will also benefit from the fact our modern external front doors come with a CE suitability certification for various climate classes and different stress levels. They can also improve the atmosphere within your building with soundproofing qualities, and their ability to reduce the likelihood of burglar intrusion. All of these qualities are confirmed with tests carried out by the building components test institute PfB in Rosenheim (D).

A wide selection of modern external doors are currently available in a variety of different high-quality wood made with both RAL and NCS system colours on offer. As a final mark of our credentials to supply high quality and long-lasting doors, we have over 40 years' experience to our name, giving us the means to provide products which are incredibly good value for money.



~ Glazing and Panel Types for Modern Doors ~
There's a variety of options for modern doors, and many of which come glazed to allow dividing capability in order to define different spaces. This will also be done to ensure certain areas remain inviting. Installing these types of modern doors is one of the most effective ways to implement a healthy blend between quality living and well-being as they help to spread natural light around rooms.

You may also want to consider modern doors which come made from glass, as this can hand you a pleasurable tone and individual living, through a combination of painted wood and its timeless design. Another alternative would be something matte-finished with textured glass inserts, handing you a purposeful finish.

The rigorous glass inserts lend themselves to transfer the different features of modern facades into the aesthetic of these modern doors, helping to incorporate the facades around your building to achieve a harmonious style throughout. Further enhancements can also be made with a wide selection of artistic glass designs and decorative panels. Being able to mix together these elements with any hoods will increase the aesthetic value and improve the overall style you have around the entrance of your building.
~ Additional Features for Modern Doors ~
Hinges

In every single case, the hinge you select is the most important feature behind any modern doors, since this affects the way they operate. They also play a huge role in the overall style you will be emitting, so think carefully about which option would be the best for any colouring or tones you have in play. Hinges can be concealed or made visible both wide and narrow in a wide range of materials.

Depending on the type of modern doors you have installed, you will need to identify hinges which come with the right specifications to ensure they can be utilized in the most effective way. A major area of concern should be the weight of your modern doors, as you may need a particularly strong hinge to keep it structurally upright.

Having suitable security with modern doors is obviously another major area of concern, so pick out locks that can keep your model closed to ensure spaces are separated correctly. What people can often overlook with locks is the style they can actually add to the overall tone of the door with so many amazing products currently shaping the marketplace.
Multipoint Locking Mechanisms
With stylish locks installed onto modern doors, you can help elevate what is already something filled with quality by incorporating high level materials like brass, aluminium, stainless steek, black steel or RAL lacquering. This can also add more visual appeal to any door leaf you have in place to really maximise the effectiveness of your door acting as a prominent feature.

One of the many options we have available would be the MINT SSV mortise lock, giving you maximum levels of security for your entrance door with an intelligent system that represents some of the most effective innovation around. Simply close your door and the lock will automatically seal up across four different points, making this a great choice for people who are particularly weary about intrusion.

From the outside, the modern doors you have installed will open with the use of a key, with the closing process taking place all by itself. The anti-panic function "E", makes sure you have a locking system practical to use, which is heightened by the fact latches will retract when the door opens up.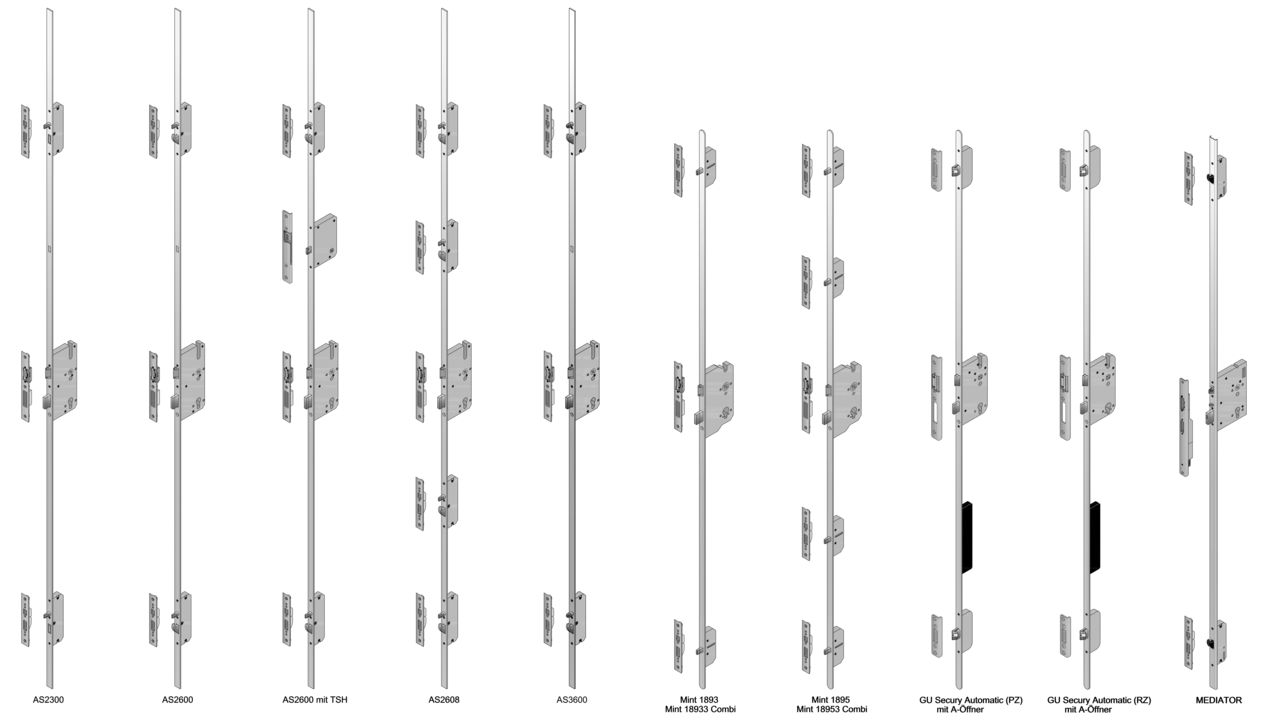 ~ Surfaces for Front Doors ~
In terms of surfaces for modern doors, you could look into metal, as this offers prevalent resistance to the rigours of nature and won't require too much maintenance to remain structurally intact and stylistically pleasing on the eye. If you want something that can take an entire room by storm, then metal surfaces can create a striking impact for even the most contemporary buildings.
Wood surfaces
On the other hand, modern doors can also adopt coloured coating with the designer wood solution being a popular choice. This is again very simple to maintain and offers high levels of resistance, making it ideal to act as a robust exterior door. The choices in colour are fairly endless, giving customers a steep level of choice when selecting something that can work well with their existing home layout.
Coloured coating surfaces
Designer wood entrance doors can brave the storms with an easy-maintenance, highly-resilient exterior quality surface on the outer side. You can choose from an extensive variety of surface designs and coloured coatings.



~ Catalogues ~
Want to see more about our luxury internal doors, have a look at our German catalogues

Contact our Modern Doors Specialists
To get even more insight into which modern doors would be best for your building
why not get in contact with our team today.
Contact Us