Glazed Internal Doors With Frames and Architraves
Discover our Range White, Oak and Walnut Glass Doors
The glass used on all range of glazed interior doors is safety toughened glass
Glazed interior doors are one the primarily things that someone notices about you house when visit you which can make a huge impressions about you and your family. Glazed wooden doors can let more light in, but the solid core doors can block the light which makes it very important the type or style of door you are going to buy. Glazed internal doors can transform the look and feel of your home. The glass from an wooden door let natural light flow through rooms and create a feeling of space without having to sacrifice on other comforts such as warmth, or peace and quiet. Internal doors with glass are also a superb way to show off your style with varied, beautiful designs to suit any taste including patterned glass, frosted glass and traditional stained glass.
Ranging from real wood veneered doors through laminate doors to glass doors, there is a possibility to choose almost any model with a variety of functions without compromising on visual appearance. The German concept offers you a simpler solution: matching wood veneer internal glazed doors and frame packages, precision-made to your specifications. These arrive at your site fully finished interior doors (no painting is necessary) and ready to install. From technical point of view the doors sets have the advantage of helping the customers to cut the future costs.
A Fantastic Range of Glazed Internal Doors UK and Door Sets
Available up to 1209mm wide and up to 2472mm high.
Complete Service From Survey to Installation.
All workmanship is guaranteed for 2 years for fitted glazed door sets.
| | | |
| --- | --- | --- |
| Oak Glazed Internal Doors | | Beech Glazed Interior Doors |
| | | |
Contact one of our Door Consultant for more advice
We are the Wooden, Glass Doors and Frames Experts
Call 01923 800 111
Email: contact@doors4uk.co.uk
Glazed internal doors can make your home safer, for example, in the case of kitchens and children's rooms, by allowing you to keep an eye on what's going on at all times. A glazed internal door with opaque/ frosted glass can add a sense of privacy to the required spaces as bathroom or utility without blocking off the light completely.
Find your Glazed Internal Doors. For prices and more designs visit our wooden doors range of products.
The doors, made in Germany, stand around the globe for craftsmanship quality. The brand Grauthoff represents high quality, innovation and contemporary designs and our glazed internal door sets can be found only in specialist stores. Our wooden doors are presented with different styles of hinges, panels and hardware and our new combination of veneers and white lacquered with wood elements expands your choice of internal door sets even further.
Using the very latest manufacturing technology you can be sure of a top quality product at an affordable price. We pride ourselves on the highest level of service; include fitting, if required and a total peace of mind after sales guarantee. Glazed internal doors have many advantages, each of them can help your refurbishment and new build project. You are sure to find one in our range to suit your taste perfectly but if you're having trouble choosing then contacts our expert team today.

| | |
| --- | --- |
| Do you know that we can supply and fit bespoke doors? | Do you know that we can supply and fit glass doors? |
| | |

Doors 4 UK Provides The Best Quality Glazed Internal Doors in UK
Glazed Doors Options
Why Choose doors4uk - for glazed interior doors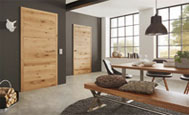 Complete Service From Survey to Installation
Doors4UK provides a complete service that is made of five steps to take you through the entire process of buying German Door Sets and make the process very easy and enjoyable. Our glazed interior doors are custom design and manufactured to fit your personal style to highlight the artistic appeal of your personal space.
We Care About Your Project
Doors4UK offers 2 Years Workmanship Warranty for any products that are fitted by us. This is because the company is dedicated to building lasting relationships. At Doors4UK we understand that no business can stand for long without having fully satisfied customers.
Competitive Transport Cost
Doors4UK has chosen to work with transport companies based on reputation, so we can ensure that we can get a reputable and reliable transport service and the economic cost, no matter how large or small you order. Most of our products are shipped by pallet due to the size and weight of wooden and glass doors. The carriage charge depends of the size of the order, goods ordered, and delivery address.
Doors4UK is able to manufacture extra wide glazed internal door up to 1235mm and the height of 2485mm is definitely a nice and expensive feature. More than that even wider doors( up to 2400mm) can be manufactured from two door leafs connected on site. Therefore for those dimensions the scale of the house is important as extra wide and tall doors would look silly in small apartment.
German Quality Doors and Door Sets
An increasing number of people are turning away from plain ready to paint, unvarnished or inexpensive wood imitations internal doors from the DIY stores. Real wood and laminate (man-made veneer) doors is the new trend of glazed internal doors and frame/lining of high quality veneer which are making their entrance to UK modern apartments and houses.