Manufacturer of Laminate Doors and Frames
Laminated Finish on Internal Doors
To see our laminate doors brochure

click here
Internal Doors as Laminate Doors are a machine generated replacement for real wood veneer doors. Laminate doors are timber-structured, but with a man-made facing that recreates the natural feel of real wood – from the color to the face structure. This would allow continuity of shade and finish on foil veneered doors with maximum authenticity impression. This impression of real wood has been possible by highly sophisticated reproduction technology, which recreates timber texture, grain and colour. For every application in residential and commercial construction, you will find the right door within our range of internal doors and frames. You can also take advantage of the design integration within the GRAUTHOFF- door group. Currents trends in design and colors underscore the creativity of our ASTRA innovations. ASTRA is one of forth factory in Grauthoff Door Group company.
Doors with Horizontal Grain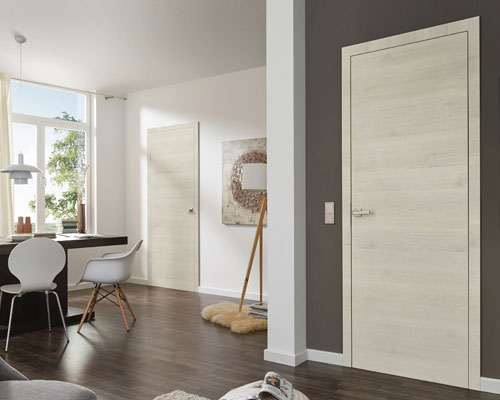 Laminate doors with
light
wood finish
Custom Pocket Doors Laminate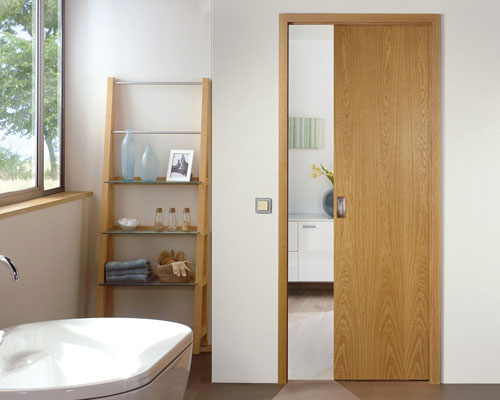 Laminate doors with oak finish
Bespoke Sliding Doors
Laminate doors with
dark
oak finish
A Fantastic Range of Laminate Doors and Door Sets Available with width up to 1209mm and heights up to 2472mm.
Complete Service From Survey to Installation.
All workmanship is guaranteed for 2 years for fitted laminate door sets.
The new Astra CPL
internal doors collection

sets new standards in quality, variety and individuality

The product group "Classic & Style," "Moods & Emotions" and "Design & Future", we present a wide range of excellent CPL Foil Veneer Doors - from our popular classics in white on amazingly authentic wooden replicas to modern university look. In this catalog, you will find all the plastic surfaces at a glance. No matter what surface you prefer for your living space: On the Astra excellent quality - made in Germany - you can count on in any case. All surfaces are characterized by extraordinary impact resistance and UV resistance. Further, they can clean up is particularly easy, because the doors are resistant to cleaners - even with heavy use, they stay beautiful. Another plus is an innovative and flexible shift system TVIN 2.0, which is compatible with all surfaces of the CPL collection. TVIN 2.0 offers top quality and can be optionally equipped with an automatic door closing. Known for quality and functionality at the highest level, innovative design and a wide range surface, GRAUTHOFF worked for over 20 years continuously under the product brand ASTRA to further develop its decor and laminate doors. Since CPL surfaces compared to decorative surfaces today claim an increasingly important role in the market, laminated doors were now defined as a strategic focus of the company's future direction. With over 30 new CPL surfaces all ASTRA door range has been expanded several times.

Targeted market research and trends in architecture and interior design such as the "desire for naturalness" or "purism" presented in defining the choice of color and wood decor worlds is an important aspect For quick orientation and to assist in the consultation GRAUTHOFF also for contract use every single surface of the wide product range of the predefined styles associated with Classical style, atmosphere and emotion, as well as design & Future. The view of volumes shows that still remains a trend for white surfaces. Therefore, white doors of the product brand ASTRA now available exclusively in different edge designs to door and frame. In addition to a square edge, the rounded edge is possible with a 6 mm radius, and also with a minimized 2 mm radius. The particularly small radius is achieved here through the jacket of the edges with the new EPL-surface (Electronic Pressure Laminate). The advantage of an almost square looking edge, but without any visible joints. By the method of the electron beam has the EPL surface over a very pleasant soft-touch feel, high scratch resistance and excellent cleaning properties. The demand for all EPL and CPL surfaces is the same as for all other surfaces of the doors of GRAUTHOFF. Requirements as well as flush-closing, floor to ceiling, special sizes, frame, glass cut glass and object-related functions are of course met. Specially designed for sliding doors and the new hardware system TVIN 2.0 is introduced - convincingly by its high quality finished surface "like satin stainless steel", absolute smoothness, a covert carriage technology and an optional automatic door closing. After a lead-time of the relaunch of the product brand ASTRA than one year, the new design standards in the market was introduced, accompanied by a comprehensive marketing package for the trade. A newly designed and documented ASTRA logo represents the new corporate design of the product brand ASTRA in expressive ways: doors. Simple. Perfect '.
Contact one of our Door Consultant for advice
We are the Wooden, Glass Doors and Frames Experts
Call 01923 800 111
Email: contact@doors4uk.co.uk
Do you know that we can make supply and fit bespoke doors?


Do you know that we can make supply and fit glass doors?
Laminate doors Fitted by Professionals
Try our fitting expert service
laminate Doors - Sliding Internal Door
Our professional team of fitters, engineers and surveyors are trained in Germany to provide you best service. Doors4UK dedicated technical staff will review your projects requirements to provide incomparable technical assistance throughout all phases of your project from specifying to manufacture and installation.
why choose us
An increasing number of people are turning away from plain ready-to-paint, unvarnished or inexpensive wood imitations internal doors from the DIY stores. Real wood and laminate (man-made veneer) doors comprise the new trend of made-to-measure doors and frame/lining, which are making their entrance to UK modern apartments and houses.
We Care About Your Project
Doors4UK provides a complete service to take you through the entire process of buying German Door Sets. We offer 2 Years Workmanship Warranty for any products that are fitted by us. This is because the company is keen to build long-lasting relationships. At Doors4UK, we understand that no business can stand for long without having fully satisfied customers.
Competitive Transport Cost
Doors4UK has chosen to work with transport companies based on reputation, so we can ensure that we can get a reputable and reliable transport service and financial cost, no matter how large or small your order is. Most of our products are shipped by pallet due to the size and weight of the wooden and glass doors. The carriage charge depends of the size of the order, goods ordered, and delivery address.
Doors4UK is able to manufacture extra wide and tall doors up to 1235mm in width and 2485mm in height. More than that, even wider doors (up to 2400mm) can be manufactured from two door leafs connected on site. Therefore, for those dimensions the scale of the house is important, as extra wide and tall doors would look silly in small apartment.