Internal Fire Doors
Great Selection of Fire Rated Doors

Our factory in Germany enables us to manufacture fire rated doors, entrance doors, and door sets, with solid core and frames for the full range of applications in any size up to 1209 mm wide and 2472 mm height, with any type of laminate, real wood veneer or painted finishes. These are prepared for internal and flat entrance door use and finished with precise technical specifications. Adding to that, there are other features for FD30 Doors from Doors4UK, which are soundproof doors, drop seal for extra soundproofing and draft protection, the 3-point lock system for extra safety and more.
Real Wood Veneer Door Sets - For More Finishes, Click Here
Laminate Door Sets - For More Finishes, Click Here
Painted Door Sets - For More Finishes, Click Here

Contact one of our Door Consultants for more advice
We are the Experts of Wooden Doors, Glass Doors and Frames
Call 01923 800 111
Email: contact@doors4uk.co.uk

Internal fire doors provide your safety and peace of mind and they comply with stringent building regulations. The internal fire rated doors are available as single and double doors with heights up to 2500 mm. Most of our models and designs are from ASTRA and HGM factories, which gives you a better range of products to choose from. Interior fire-rated doors are very important to any home, office or building as they restrict fire and smoke spreading. They give you the peace of mind that the risk of fire spreading is heavily reduced, therefore keeping you, your family and your possessions safe. Certified for 30 minutes, fire-rated internal doors are subject to rigorous safety regulations and certifications to meet UK and EU standards. Doors4UK serves the UK construction industry with custom-made Fire Solid Doors Oak Finish, FD30 solid doors, Fire Door Sets, and Frames; every door we provide is a hand-made one-off, designed specifically for you.

Interior Doors are made of a variety of materials and methods nowadays and provide different rates of protection against the expansion of the fire. However, a reliable structure is needed to acquire fire-safety products. Our fire-rated doors have the label to prove carefully examined safety qualifications, so the buyer is reassured about the reliability of our doors. Thus, Doors4UK's products are thoroughly regulated by the authorities in regards to fire protection, according to UK building regulations.


Door Structure - Solid Core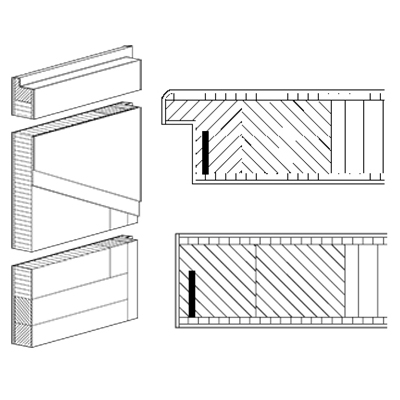 A fire-rated door is produced from the full engineered core having 40mm thickness. It has an intumescent strip inside and is supplied as a finished product with no need for painting.
European Style Door Set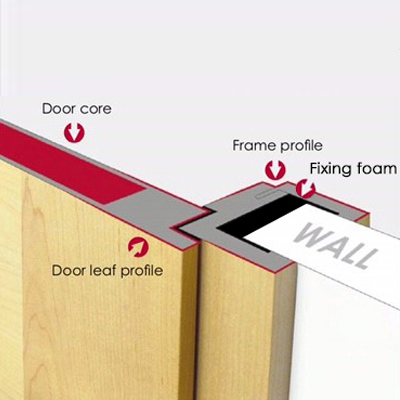 A European style fire-rated door is placed as part of the frame. The rebated door has a lip that overlaps the frame, providing a good seal against draught.
British Style Door Set
A British style fire-rated door forms one level with the frame, creating a flush finish.
Adjustable Frame and Architrave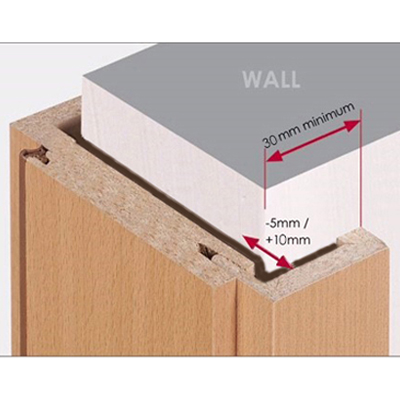 Adjustable frame and architrave with rubber gasket for better soundproofing.
A full engineered core door is a mixture of chopped wood with high resistance glue, which improves the quality of soundproofing and thermic isolation. Fire rated oak doors can be manufactured as European Style or British Style with different finishes as laminated, real wood veneer or painted. The frame and architrave for European Style and British Style door sets come as finish products from the German factory and they can be supplied in the same finish as the door or in different finishes depending on customer needs and desires. The frame for both European and British style doors have a rubber gasket on stop of it, which helps with soundproofing and allows a smooth shut of the door. The rubber seal matches the finish of the frame and architrave.
Types of Fire Rated Doors
Generally speaking, fire internal doors are usually not required by law in residential homes, unless they are rented out for tenant accommodation. In this instance, there is a set of laws regarding numerous occupancy properties. Planning and building regulations regarding fire doors do, however, involve doorways between houses with an adjacent garage area and buildings with three or more stories, together with loft conversions, as it is considered to be an increased risk of fire or problems regarding escape. Every home is different and it is ultimately the obligation of the owner to fit fire doors wherever fire safety is at risk. Any home alteration project must include a fire-risk assessment and if in doubt, opt for the safest decision.
Like smoke detectors, fire doors are not a legal obligation in most homes, not because they are not a prudent idea, but because the enforcement and regular on-site examination of such procedures would be a very expensive exercise, all passed on to millions of consumers. However, if you do decide to fit fire doors, then our catalogue will permit you to decide both safety and style for a vast range of doors.
Fireproof doors help with damage control of fire. Interior fire doors are crucial for the safety of life and properties, which should have priority over anything else. These fire doors and frames allow a safe exit path to residents or occupants inside any property without being harmed. Doors4UK's fire doors are made of quality fire-resistant materials. Also, fire doors are thoroughly tested to pass local and international stringent safety guidelines, in order to assure customers of fire door and frame sets' functionality and effectiveness.
With Doors4UK, you can both achieve the usefulness of your fire door and frame sets and the favorite design. You can choose from a wide range of different designs and finishes for your internal fire doors, such as real wood veneer, laminate or painted fireproof door sets. Nevertheless, what is more than convenient is that any door and frame set available by Doors4UK is made to measure, which means that you can have different dimensions for your internal fire door without having to makes changes for your walls.

Hardware for Fire-resistant Doors
In continuous function tested quality locks, strike plates and hinges are the proof of quality and guaranteed durability and functionality, all safety-tested.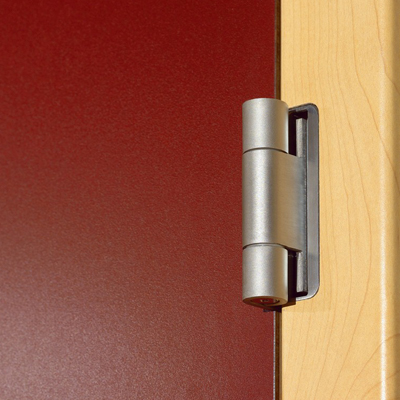 Hinges for Fire-rated Internal Doors
VX7729 for British Style Door
VX939 for European Style Door
Fire-rated Latch/ Fire Rated Lock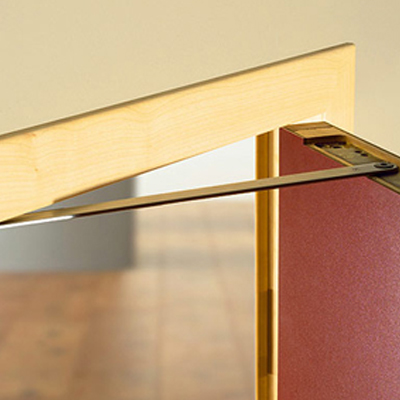 Concealed Self-Closer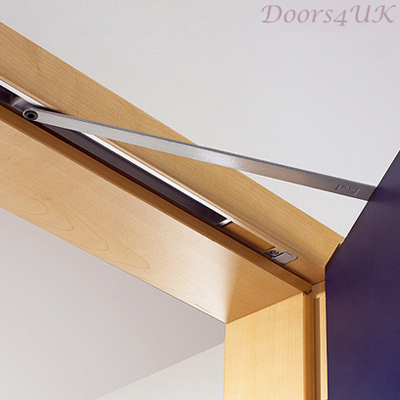 Concealed Self-Closer

The fire-rated door sets may incorporate a concealed closing device mounted within the jamb of the leaf. Because the door sets are required to be latched in the case of fire, the ability of the closer to retaining the door in the closed position has a low impact on the performance of the door set. However, it is essential that the closer is capable of closing the door set into the latched position. It is also necessary to consider the influence of the inclusion of the device upon the burn through the leaf. The soft closer is of maximum 145 mm long and 22 mm in diameter and this inevitably results in a reduction of leaf thickness in this area and thus advanced burn through. Though, the performance of the lock casing in the leaf edge provides confidence that relatively small devices such as a closer may be incorporated, without influencing the performance of the door set for the required 30 minutes period.

why choose us
An increasing number of people are turning away from plain ready-to-paint, unvarnished or inexpensive wood imitations internal doors from the DIY stores. Real wood and laminate (man-made veneer) doors comprise the new trend of made-to-measure doors and frame/lining, which are making their entrance to UK modern apartments and houses.
We Care About Your Project
Doors4UK provides a complete service to take you through the entire process of buying German Door Sets. We offer 2 Years Workmanship Warranty for any products that are fitted by us. This is because the company is keen to build long-lasting relationships. At Doors4UK, we understand that no business can stand for long without having fully satisfied customers.
Competitive Transport Cost
Doors4UK has chosen to work with transport companies based on reputation, so we can ensure that we can get a reputable and reliable transport service and financial cost, no matter how large or small your order is. Most of our products are shipped by pallet due to the size and weight of the wooden and glass doors. The carriage charge depends on the size of the order, goods ordered, and delivery address.
Doors4UK is able to manufacture extra wide and tall doors up to 1235mm in width and 2485mm in height. More than that, even wider doors (up to 2400mm) can be manufactured from two door leafs connected on site. Therefore, for those dimensions, the scale of the house is important, as extra wide and tall doors would look silly in a small apartment.