~ Premium Steel-Framed Doors ~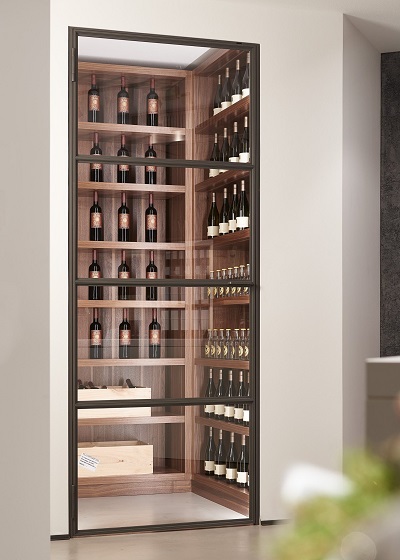 The steel & glass
doors are based on the most exclusive internal system and act as a divider between spaces and rooms. The exquisite steel profiles make possible the manufacturing of internal glass doors with different functionalities as hinged single and double doors, sliding or pocket doors and even large wall partitions.

The traditional industrial style is making its way to contemporary interior design. This is why the Grauthoff engineers developed the slim steel framing sections that make possible the manufacturing of glass screens with integral steel doors. These wall partitions with glass and steel are splendidly suited for use as interior separation with a contemporary industrial design scheme.

Vertical and horizontal steel bars are incorporated into the glass screen and door construction in order to create that cross-hatched art deco appearance. To be able to cover wide openings, multiple screens can be used together with these
internal doors with a minimal steel connection frame.
Our company also supplies the more cost-effective option of the steel-framed doors, the aluminium framed doors. Have a look at all our installed projects and find out more details here
All ironmongery and hinges have been expertly guaranteed a durable mechanism in order to ensure that the end product is keeping the exacting standards that our clients have. To assure the smooth transition between the steel frame and the door, the hinges have the same steel finish with the capacity of an opening angle of 180 degrees. The hinge system for luxury steel & glass doors is the latest innovation in hinge technology on the market.
The handles used for these doors were designed and manufactured to be integrated perfectly into the door construction, creating a pleasant end product.
~ Pocket

Steel-Framed Doors ~
Besides the standard hinged steel-framed doors with or without side panels, the steel section in combination with glass panels can be used together to create a high-quality door that can be used as a pocket or sliding for openings that cannot accommodate standard doors. All the ironmongery used for these metal framed internal doors is developed to ensure the smoothest sliding process and to offer the guaranty of a long-life product.

The industrial look is based on the minimalist design of the components which ensures that opened and clear spaces are created. In order to achieve this modern approached in interior design, the pocket doors with thin steel frames were designed and manufactured.

The bespoke solutions that the German manufacturer made possible for the luxury steel-framed doors are based on the highest levels of technology and are suited for luxury residential and commercial design.