~ Modern Classic Nouveau Doors ~
Classic Nouveau style is for the contemporary internal doors that are described as a combination of simplicity and elegance. The special manufacturing method of the Classic Nouveau design leads to
ultra-modern
internal doors, which is caused by the absolutely angular panels. This makes the contemporary internal door a representative of the classic-modern concept, an ideal door for modern living.
Combine classic look and modern living ideas with good quality internal doors. The door panel with double grooves gives a light, unobtrusive imagine, an exceptional design element for anyone who loves something special.
A benefit
of the modern manufacturing process which makes possible one of the 4-panel designs.
Starting price for Classic Nouveau modern single door set: £888.00 excl. VAT and transport
Classic Nouveau door range has a modern look that makes a fine figure even with glazing inserts. If you are looking for something special then doors with glass cut-out are the right thing for your bright rooms. Please see below more panel and glazing options for Classic Nouveau modern doors



~ Additional features ~
To be able to create spaces that radiate lux, the German factory made available additional features for high-end doors. Individual solutions are created and implemented according to old rules of craftsmanship, with attention to detail and absolute quality orientation. The door makers and refinishers operate outside of series production and thus guarantee the individuality of the end product. Every door that leaves the factory has been specially designed for its receiver, and design and functionality have been developed for it.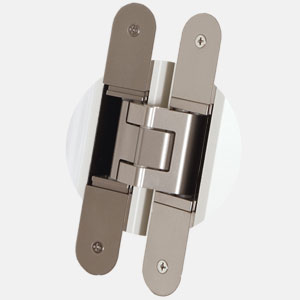 TECTUS Hidden Hinges
Hidden or concealed hinges make it possible to achieve uninterrupted flush-faced surfaces on the hinged side of the door, bringing a visual, harmonious flow to the interior. The complete concealed TECTUS hinge system for British Style interior doors is the latest innovation in hinge technology on the market.
Techical details
Load capacity: 80,0 Kg
Overall lenght: 160,0 mm
Width (door): 28,0 mm
Width (frame): 28,0 mm
Cutter Ø 24,0 mm
Opening angle: 180° degree
Magnetic Lock
These magnetic locks are available for different rosette types as BB, PZ or WC. The faceplate is matte brushed but it can be customized with different types of surfaces and finishes. This magnetic lock is suitable only for flush doors known as British style doors.

Advantages of a magnetic lock
Noiseless
The strike plate is hidden on the frame, non-visible from the architrave part
Matching architrave to the individual door designs with groves or profiled versions is obvious when the final products are high-end doors. The frames that made possible these pre-hung door and frame sets are delivered assembled from the factory. The frame is lacquered only after assembly and therefore has perfect miters without visible joints. This high-end frame comes equipped with a rubber gasket that has the same finish as the door and which helps to close the door noiselessly or could be considered as a soundproof feature.



~ Glazing and Panel Types ~
Glazed doors connect and disconnect rooms at the same time. These high-end doors create the ideal combination of living and well-being because they allow the natural light in the rooms and make living space a new experience. In addition to the room design, a prerequisite for the optimal use of light is above all the use of doors with glass inserts. With modern internal doors with glass, you confess to a pleasurable and individual living, through the noble combination between white and the unbeatable timeless design.
The type of glazing cut-out and the fitted glass panel is at the chooser desire. Wherever discretion is desired, doors can be fitted with frosted glass - for example, in the bedroom, in the bathroom or in the dressing room. One thing is certain: With high-quality internal doors, you can choose something special - a new sense of brightness and openness that puts the generosity of interior design in the right light.

~ Laser Cut Individual Design Options ~
The special structure of the Classic Nouveau made to measure internal doors offer not only panels but also many other design possibilities. Due to the laser technology used, practically all imaginable motifs can be represented as indentations on the modern doors. This three-dimensional depth effect, characterized by light and angle, creates a discreet look, pleasantly restrained and yet visible. This is top class door design not only for kitchen, bathroom or modern bedroom doors but also as an office door.