Exclusive security entrance doors from Doors4UK.
Bespoke internal entrance doors up to 2500mm in height, with various finishes in laminate or wooden veneer doors.
Click the link to choose the finish required.
Perfect solutions with charming aesthetics – including perceived security. Security has many aspects and even more beautiful finishes. Our security fire doors, provides high protection, are particularly functional: it shows up extremely resistant to unwelcome guests, fire, smoke or noise. Doors4UK provides soundproof and burglar security made to measure doors with different type of finishes from laminate to veneer and painted doors. The security doors can have different surface on each side of the door which will make it much easier to integrate with interior design of the apartment and the doors installation is made by the professionals. Doors entrace are one of the most important items in designing the home, so you should carefully condider the options available.
5 Point Lock Security Doors

Wooden Veneer Doors

3 Point Lock Security Doors

Laminate Doors

Drop Seal for Soundproof and Fire Doors


Security doors soundproofed with high safety 5 point locking system

Soundproof Door and frame with different surface on each side

Draft Excluders for any type of internal or external security doors
Contact one of our Security Door Consultant for more advice.
We are the Wooden, Glass Doors and Frames Experts .
Call 01923 800 111
Email: contact@doors4uk.co.uk
Want to know more? Have a look at out here!!!
Unfortunately danger from many sides, for example, by the increasing number of burglaries. Therefore it is reassuring to know that the Grauthoff range of security doors expands up five new types – tested in accordance with German standards of safety. The Security doors sets manufactured by Grauthoff are characterized by its high quality and sturdy design. They are supplemented by a number of security-specific characteristics such as:
Reliable locks

Three or five security bolts per door leaf

Security fittings with cylinder cover

Draft Excluders for any type of internal or external doors

Fire resistant to 30min or 60 min

Safety chain
The different types in single or double leaf design are manufactured in a variety of sizes. Whether fire, smoke or sound insulation up to 43 dB – the wide range of Grauthoff offers an optimal level of security for each individual.
The soundproofing of the door is greater than a standard door as it has full massive core which make the noise level immediately noticeable from the first day of installing the new security door. With the addition of the drop down threshold (draught excluder) this will block any air coming in or out from the apartment make it better sound proofing. The range of soundproofing start from 28dB to 43db with different thickness of the door which corresponds with the sound levels require from 40mm respectively 45mm.
The other aspect of the made to measure security doors is fire safety rating which in UK is a requirement. The standard fire doors rating helps to delay the fire to spread from one area to another. The security doors used in flat doors required to be fire rated proof as well.
Why Choose Us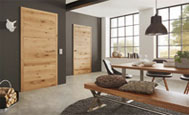 Complete Service From Survey to Installation
Doors4UK provides a complete service that is made of five steps to take you through the entire process of buying German Door Sets and make the process very easy and enjoyable. Our doors are custom design and manufactured to fit your personal style to highlight the artistic appeal of your personal space.
We Care About Your Project
Doors4UK offers 2 Years Workmanship Warranty for any products that are fitted by us. This is because the company is dedicated to building lasting relationships. At Doors4UK we understand that no business can stand for long without having fully satisfied customers

.
Competitive Transport Cost
Doors4UK has chosen to work with transport companies based on reputation, so we can ensure that we can get a reputable and reliable transport service and the economic cost, no matter how large or small you order. Most of our products are shipped by pallet due to the size and weight of wooden and glass doors. The carriage charge depends of the size of the order, goods ordered, and delivery address
Doors4UK is able to manufacture extra wide door up to 1235mm and the height of 2485mm is definitely a nice and expensive feature. More than that even wider doors( up to 2400mm) can be manufactured from two door leafs connected on site. Therefore for those dimensions the scale of the house is important as extra wide and tall doors would look silly in small apartment.
German Quality Doors and Door Sets
An increasing number of people are turning away from plain ready to paint, unvarnished or inexpensive wood imitations internal doors from the DIY stores. Real wood and laminate (man-made veneer) doors is the new trend of made to measure doors and frame/lining of high quality veneer which are making their entrance to UK modern apartments and houses.