Manufacturer of Fire Rated Doors and Frames, X-Ray Lead Doors, Smoke and Soundproof Style Doors
We are all individual personalities. Even with the doors is crucial: You must be in design and features specially equipped for every task. From the tested sound insulation to climate protection, smoke, fire, or radiation protection, the GRAUTHOFF Door Group in each case, the solution perfectly tailored to your needs. Trust incompetence and resourcefulness when master craftsmanship services are in demand. For 50 years, our experience at the service of the customer. As specialists for veneer, perfect finishes and glass doors, we go ahead not only with time but always one step ahead. Sophisticated performance doors for safe every day at home and at work are our strength. Of course, certified and tested functional doors.
Contact one of our Door Consultant for more advice
We are the Wooden, Glass Doors and Frames Experts
Call 01923 800 111
Email: contact@doors4uk.co.uk
Wooden Veneer Doors
Laminate Doors

Drop Seal for Soundproof and Fire Doors


Security doors soundproofed with high safety 5 point locking system

OK


Soundproof Door and frame with a different surface on each side

Draft Excluders for any type of internal or external security doors
As an acoustic door manufacturer, we have a fantastic range of Soundproof Doors and Door Sets Available with width up to 1209mm and heights up to 2472mm
Do you need X-Ray Lead Doors, Smoke or Fire Doors Sets?
Complete Service From Survey to Installation
All workmanship is guaranteed for 2 years for fitted products
All Grauthoff Doors models – whether with technical requirements such as fire-rated doors, sound insulation, smoke-proof doors, and others or without – can additionally meet the requirements of radiation protection. Thus, all dimensions up to 950mm in width and 2222mm in height can be realized.
The radiation protection door is intended for protection against the X-rays, gamma rays and electron beams. The doors sets are used mostly in healthcare buildings, such as hospitals (access doors to X0ray rooms) or laboratories. The radiation protection is made with lead inserted in the cover plate. Glazing option available in accordance with German regulation DIN 6841, see below the 2 models with Light cut-out as a viewing window with 6mm glass and special communication window.
| | |
| --- | --- |
| Soundproof Doors Test | How Tough Is The Glass Door |
| | |
A soundproof style door can fulfill two functions: it can keep the noise where it arises, for example, in industrial machinery spaces or studio music room and also they can keep the noise out - the destination in the flats or apartments from entrance, for example, your home is to protect people from noise from communal corridors. Our soundproof doors can be used for flat entrance with 35dB and drop-down threshold to create a barrier protecting the flat from external noise. For internal purposes can be used standard doors fire-rated or soundproof doors with a 32dB sound rate. The maximum rate of soundproofing at 47 dB can be used in a commercial application where doors are specified by architects or interior designers.


Why Choose Us for your

Fire Rated Doors and Frames, X-Ray Lead Doors, Smoke and Soundproof Doors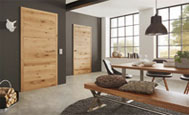 Complete Service From Survey to Installation
Doors4UK provides a complete service that is made of five steps to take you through the entire process of buying German Door Sets and make the process very easy and enjoyable. Our Fire Rated Doors and Frames, X-Ray Lead Doors, Smoke and Soundproof Doors are custom design and manufactured to fit your personal style to highlight the artistic appeal of your personal space.
We Care About Your Project
Doors4UK offers 2 Years Workmanship Warranty for any products that are fitted by us. This is because the company is dedicated to building lasting relationships. At Doors4UK we understand that no business can stand for long without having fully satisfied customers

.
Competitive Transport Cost
Doors4UK has chosen to work with transport companies based on reputation, so we can ensure that we can get a reputable and reliable transport service and the economic cost, no matter how large or small you order. Most of our products are shipped by pallet due to the size and weight of wooden and glass doors. The carriage charge depends of the size of the order, goods ordered, and delivery address
Doors4UK is able to manufacture extra wide door up to 1235mm and the height of 2485mm is definitely a nice and expensive feature. More than that even wider doors( up to 2400mm) can be manufactured from two door leafs connected on site. Therefore for those dimensions the scale of the house is important as extra wide and tall doors would look silly in small apartment.
German Quality Doors and Door Sets
An increasing number of people are turning away from plain ready to paint, unvarnished or inexpensive wood imitations internal doors from the DIY stores. Real wood and laminate (man-made veneer) doors is the new trend of made to measure doors and frame/lining of high quality veneer which are making their entrance to UK modern apartments and houses.