Manufacturer of Fire Doors and Frames, Bespoke Sizes and Designs
Made to Measure Fire Doors with widths up to 959mm and height up to 2470mm
Doors4UK provide
fire doors
sets resistance for your safety and peace of mind, and comply with stringent building regulations. The fire doors are available with most of our models and designs
ASTRA
and HGM which can give you a better range of products to choose from. Interior
fire doors
sets are very important element to any home, office or building as they restrict fire and smoke spread. It gives you the peace of mind that the risk of the fire spreading is heavily reduced therefore keeping you, your family and your possessions safe. These doors are certified for 30 minutes and 60 minutes and are subject to rigorous safety regulations and certification to meet UK and EU standards.
A Fantastic Range of Fire Doors and Door Sets Available
Complete Service From Survey to Installation
All workmanship is guaranteed for 2 years for fitted Fire Doors and Door Sets
Most of Flush Doors are available as fire doors sets with or without glazing
| | | | | | | | |
| --- | --- | --- | --- | --- | --- | --- | --- |
| Door Sets and Door Only | Door Sets and Door Only | Door Sets and Door Only | Door Sets and Door Only | Door Sets and Door Only | Door Sets Only | Door Sets Only | Door Sets Only |
| | | | | | | | |
Doors4UK serves UK construction industry with custom-made Fire Doors, Fire Door Sets and Frames; every door we build is a hand-made one-off, designed specifically for you. Our factory in Germany, enables us to manufacture fire doors sets, fire check doors and frames for the full range of applications in just about any size and type of foil veneer or wood laminate and real wood veneer. These are prepared for internal and flat entrance doors use and finished to exact technical specifications including glazed and laminated door sets. We handle any size of order - from single interior glazed fire doors, to a set of special size laminated, fire rated flush, soundproof, X-Ray doors, right up to a new hospital full of fire resistant doors exceeding British Standards. We provide FD30 minutes, FD60 minutes (1 hour) and FD90 minutes. The vast majority of fire-resisting applications are internal, within buildings. In certain situations they may be required for external use, mostly in sheltered passageways providing means of escape.
Contact one of our Door Consultants for more advice.
We are the Experts of Wooden, Glass Doors and Frames.
Call 01923 800 111
Email: contact@doors4uk.co.uk
Why Choose Us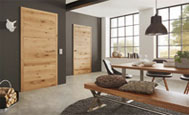 Complete Service From Survey to Installation
Doors4UK provides a complete service that is made of five steps to take you through the entire process of buying German Door Sets and make the process very easy and enjoyable. Our interior doors are custom design and manufactured to fit your personal style to highlight the artistic appeal of your personal space.
We Care About Your Project
Doors4UK offers 2 Years Workmanship Warranty for any products that are fitted by us. This is because the company is dedicated to building lasting relationships. At Doors4UK we understand that no business can stand for long without having fully satisfied customers

.
Competitive Transport Cost
Doors4UK has chosen to work with transport companies based on reputation, so we can ensure that we can get a reputable and reliable transport service and the economic cost, no matter how large or small you order. Most of our products are shipped by pallet due to the size and weight of wooden and glass doors. The carriage charge depends of the size of the order, goods ordered, and delivery address.
Doors4UK is able to manufacture extra wide door up to 1235mm and the height of 2485mm is definitely a nice and expensive feature. More than that even wider doors( up to 2400mm) can be manufactured from two door leafs connected on site. Therefore for those dimensions the scale of the house is important as extra wide and tall doors would look silly in small apartment.
German Quality Doors and Door Sets
An increasing number of people are turning away from plain ready to paint, unvarnished or inexpensive wood imitations internal doors from the DIY stores. Real wood and laminate (man-made veneer) doors is the new trend of made to measure doors and frame/lining of high quality veneer which are making their entrance to UK modern apartments and houses.