~ Exterior Barn Doors ~
These doors are no longer available!!!!
Stable style doors are in trend! They are appropriate to factory's customary craftsmanship, working with precisely chosen hardwoods, utilizing accuracy and imagination to make
exterior barn
doors. An inventive system created by our engineers and designers empowers us to consolidate contemporary and classical materials to meet current necessities. Sunbleached recovered wood is joined with glass panels surrounded in
present-day tempered steel and magnificent burglar resistance.
Starting price for our exterior barn doors is £2,500.00 + VAT and transport



~ Panels and Designs for Barn Doors ~
Old wood is becoming increasingly popular in the production of house front doors by virtue of age-old tradition and of its natural beauty. The stable style doors are a harmonious fusion of passion for the ancient and mastery of execution respecting the artisan traditions of handcrafted art. All door designs are born from the particular care in the choice of wood recovered from old doors or antique beams in oak and other wood species, entirely planned and handcrafted with traditional tools. Immerse yourself in a world of peace and beauty with our door designs for barn style doors.
~ Additional features ~
Hinges
Hinges are the most important piece of a door since they are what influence the way to work easily, discreetly and reliably. They additionally have a critical effect on the appearance. They can be concealed or visible, wide or narrow, in various materials and colours; they characterize the limit amongst inside and outside. Distinctive sizes and types of hinges may be utilized, depending on whether the door they will carry is substantial or light, and whether they are visible or hidden. Below you can find a few examples some of the hinges used for modern entrance doors.
Multipoint Locking Mechanisms
The main function of a lock is, of course, to keep the door closed, and spaces separate from each other. But they can also add interest to the smooth surface of a door and form a design feature. They can be protruding or flush-fitted, square, rounded or oblong, and made of various materials; The lock, and particularly its cover, can add a stylish finishing touch to a door. In brass, aluminium, stainless steel, black steel or lacquered in any RAL lacquering, door locks and handles provide visual interest on the door leaf.
The MINT SV mortise lock ensures the maximum level of safety at your entrance door, which with its intelligent multi-point locking system represents a point of reference in the industry. Just close the door and the lock automatically locks in 4 points, ensuring the level of safety recognized by the insurance company. From the outside, the door opens with the key and at each closing, the door automatically locks itself without having to do it specifically. The anti-panic function "E" ensures great practicality of use. By operating the handle on the inside, all the latches retract and the door opens.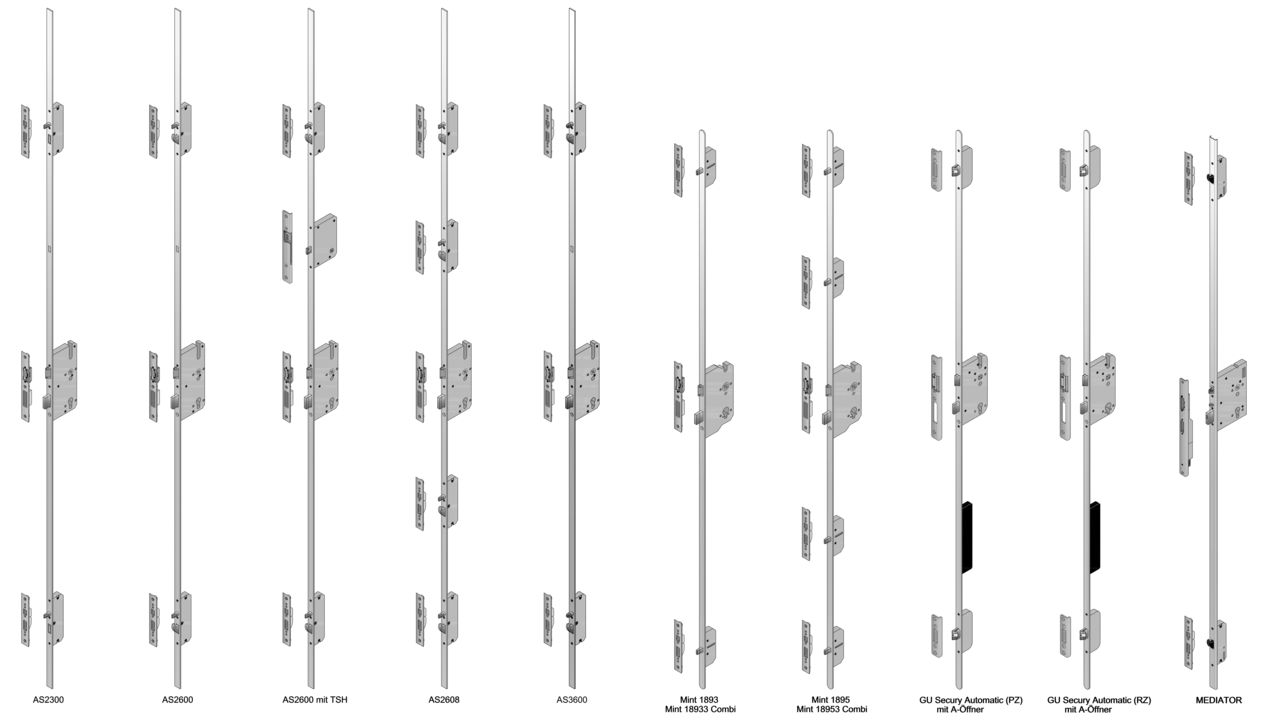 ~ Surfaces for Exterior Barn Doors ~

Please be aware that because of the natural properties of wood, the pictures may differ from reality.
This is not a defect, but rather the distinguishing feature of a material (wood) that grows in a natural way.




~ Catalogues ~
Want to see more about our luxury external front doors, have a look at our German catalogues