Bespoke Wooden Doors – Call Doors4UK for the competitive prices on internal doors
A Fantastic Range of Bespoke Wooden Doors and Door Sets Available
Complete Service From Survey to Installation
All workmanship is guaranteed for 2 years for fitted products
Your bespoke wooden doors are seen as the centre of attention of your home as well as not just for soundproofing, it might be worth the added expenditure to ultimately obtain the appearance you want for your apartment or house, much more usually the demand for a made to measure door originates from a requirement for uncommon size doors. We not just produce doors, we have the capacity to modify most of veneers within our oak, beech as well as walnut designs creating bespoke wooden doors that change the appearance of your house, therefore kindly provide us with your specification and we will have the ability to comply with or surpass your needs. The qualities of our bespoke wooden doors sets, when fitted properly by our expert fitters, are the very best buy you could have. The intriguing aspect of our array of design of the bespoke doors is that the amounts of designs available are limited only by your creativity. They could be supplied with special locks (magnetic lock) or quality hinges (TECTUS Hidden hinges from Simonswerk) as well as frame combine with architrave to provide the complete door sets.
Find below some of the awards received by Grauthoff Door Group over the last 5 years.
TOP 100 - Top Innovator 2106
Red Dot Award - for Edge Door Design
Iconic Awards 2014 - Product Winner
The GRAUTHOFF door group is already receiving the coveted award for the fifth time!
"The partnership with our corner customers is already very long, the relationship is friendly;
So many things can be discussed and decided in the shortest possible way, " says Managing Director Wolfgang Grauthoff.
In the door design edge of the product brand HGM is a transversely real wood veneer
strips or a colour strip that is inserted into the edge of a white lacquered made to measure doors.
On both sides of the edge a narrow line remains in white the door surface obtained
GRAUTHOFF receives the coveted design award for the sandwich edge in fine surfaces.
The Iconic Awards are the first international architecture and design contest that takes the disciplines into account.
The company's security bespoke wooden doors are particularly functional: it comes along incredibly proof against unwanted guests, fire, fumes or noise. Doors4UK supplies insulated and burglar security customised doors with different type of designs from laminate to surface veneer and coloured doors. The wooden doors are capable of having different surface for each side of the door that can make it much easier to incorporate with interior decorating from the apartment or house.
Unfortunately danger from many sides, for instance, by the rising large number of home invasions. That is why it is reassuring to understand that the Grauthoff range of safety and security doors increases up five new different types – examined with regards to German standards of safety. The protection doors sets made by Grauthoff are seen as a its excellent quality and sturdy design.
Each Grauthoff bespoke wooden doors are customized and fabricated to handmade flawlessness. Consumers are guaranteed wooden doors that could be included in each room atmosphere, many types and design and our capacity to generate interior doors in just about any kind of wood veneer. The wood grain could be upright or cross wise, in addition the grain can be mixed with same or different veneer. In combination with this design there are the models with grooves or inlays (stainless steel and polished chrome) which forming a stunning finish quality internal doors.
Interior bespoke wooden doors & exactly what to consider
When selecting interior bespoke doors, consider: the age and also design of the property, the amount of light there is in the property (take into consideration polished doors if you have to include some light), additionally ongoing maintenance (can you be bothered?), and obviously the allocate the job. Plainly a barn conversion or country home will require quite various doors to a contemporary city flat. Duration balconies again, can be given a new lease of life whilst still in keeping with the home by picking the right design of interior bespoke wooden door.
Internal Wooden Bespoke Doors: Choosing the appropriate interior custom wooden doors for your residential property
Why Choose Doors4UK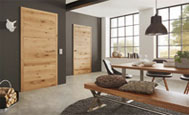 Complete Service From Survey to Installation
Doors4UK provides a complete service that is made of five steps to take you through the entire process of buying German Door Sets and make the process very easy and enjoyable. Our bespoke wooden doors are custom design and manufactured to fit your personal style to highlight the artistic appeal of your personal space.
We Care About Your Project
Doors4UK offers 2 Years Workmanship Warranty for any products that are fitted by us. This is because the company is dedicated to building lasting relationships. At Doors4UK we understand that no business can stand for long without having fully satisfied customers.
Competitive Transport Cost
Doors4UK has chosen to work with transport companies based on reputation, so we can ensure that we can get a reputable and reliable transport service and the economic cost, no matter how large or small you order. Most of our products are shipped by pallet due to the size and weight of wooden and glass doors. The carriage charge depends of the size of the order, goods ordered, and delivery address.
Doors4UK is able to manufacture extra wide door up to 1235mm and the height of 2485mm is definitely a nice and expensive feature. More than that even wider doors( up to 2400mm) can be manufactured from two door leafs connected on site. Therefore for those dimensions the scale of the house is important as extra wide and tall doors would look silly in small apartment.
German Quality Doors and Door Sets
An increasing number of people are turning away from plain ready to paint, unvarnished or inexpensive wood imitations internal doors from the DIY stores. Real wood and laminate (man-made veneer) doors is the new trend of made to measure doors and frame/lining of high quality veneer which are making their entrance to UK modern apartments and houses.