The GRAUTHOFF Doors Group -
HGM Doors are at the pulse of the times constant innovation and investment open new perspectives. For the fourth time, HGM has been awarded the "TOP 100" prize of the 100 most innovative medium sized enterprises in Germany.
It is a great pleasure for us – the team at GRAUTHOFF Door Group – to present our company to you. We are a typical German family business, now in the second generation that has been running for over 50 years. In 1956, our father founded the company together with our mother. In the beginnings, they were operating in a small shack. Many good and precious people have accompanied us on our successful way with much passion, idealism, joy and diligence. With great gratitude, we are proud to present to you GRAUTHOFF Door Group today. All three companies – HGM specializing in solid wood and lacquer finish doors, ASTRA specializing in laminate doors , and licht & harmonie specializing in solid glass doors – are constantly progressing with great enthusiasm and will do so in the future. We would like to invite you to explore the variety of our inspiring range of doors.
Wood doesn't grow overnight. It takes a lot of time until a tender sprout becomes a mighty tree. What we seed may only be harvested by our grandchildren. As a family company we want to contribute to ensuring life quality for all of us. We stand for a resource-conserving handling of wood.
When we buy the most beautiful real wood from all over the world, we pay attention to sustainability and a responsible approach to the environment. The real wood comes from sustainable forestry. We solely process ecologically valuable products chosen and surveyed personally by our veneer specialist. By using sustainable technologies and water-based varnishes, we reduce environmentally hazardous emissions or residuals to the largest possible extent. Leftovers are reprocessed when possible. We do, for example, use our wood remainders for heating and collect varnish that wasn't applied in order to reuse it.

Find below some of the awards received by Grauthoff Door Group over the last 5 years.
TOP 100 - Top Innovator 2106
Red Dot Award - for Edge Door Design
Iconic Awards 2014 - Product Winner
The GRAUTHOFF door group is already receiving the coveted award for the fifth time!
"The partnership with our corner customers is already very long, the relationship is friendly;
So many things can be discussed and decided in the shortest possible way, " says Managing Director Wolfgang Grauthoff.
In the door design edge of the product brand HGM is a transversely real wood veneer
strips or a colour strip that is inserted into the edge of a white lacquered made to measure doors.
On both sides of the edge a narrow line remains in white the door surface obtained
GRAUTHOFF receives the coveted design award for the sandwich edge in fine surfaces.
The Iconic Awards are the first international architecture and design contest that takes the disciplines into account.
Contact one of our Wooden and Glass Door Consultant for more advice
We are the Wooden, Glass Doors and Frames Experts
Call 01923 800 111
Email: contact@doors4uk.co.uk
Do you know that we can supply and fit solid wooden doors?




Do you know that we can supply and fit glass doors?



Why Choose Doors4UK - For your Interior doors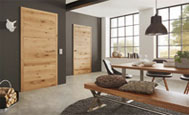 Complete Service From Survey to Installation
Doors4UK provides a complete service that is made of five steps to take you through the entire process of buying German Door Sets and make the process very easy and enjoyable. Our interior doors are custom design and manufactured to fit your personal style to highlight the artistic appeal of your personal space.
We Care About Your Project
Doors4UK offers 2 Years Workmanship Warranty for any products that are fitted by us. This is because the company is dedicated to building lasting relationships. At Doors4UK we understand that no business can stand for long without having fully satisfied customers.
Competitive Transport Cost
Doors4UK has chosen to work with transport companies based on reputation, so we can ensure that we can get a reputable and reliable transport service and the economic cost, no matter how large or small you order. Most of our products are shipped by pallet due to the size and weight of wooden and glass doors. The carriage charge depends of the size of the order, goods ordered, and delivery address.
Doors4UK is able to manufacture extra wide door up to 1235mm and the height of 2485mm is definitely a nice and expensive feature. More than that even wider doors( up to 2400mm) can be manufactured from two grey door leafs connected on site. Therefore for those dimensions the scale of the house is important as extra wide and tall doors would look silly in small apartment.
German Quality Doors and Door Sets
An increasing number of people are turning away from plain ready to paint, unvarnished or inexpensive wood imitations internal doors from the DIY stores. Real wood and laminate (man-made veneer) doors is the new trend of made to measure doors and frame/lining of high quality veneer which are making their entrance to UK modern apartments and houses.