9 Sliding Doors That Offer A Great Option For Your Space
Sliding Door Is a Intelligent Option For Saving Space - See below 9 Sliding door options

Sliding doors are very useful as they do indeed prove to save a lot of space, since they are able to operate without opening and closing on a hinge. They simply are able to slide along instead on an installed sliding track. The door slides and therefore will not be swinging in and out as a door on a hinge does that takes up space. Yes, the sliding doors are efficient in saving space. They are easy to access as well. They just slide open or closed. Thus it is easy even for a child to open and close these doors. Another nice benefit is that they add a trendy, stylish look to a room as well.

Now we discuss the following doors that are provided by our great company that is very pleased to be able to serve you by providing you with amazing quality sliding doors.

1. Black ( Antrachite) Sliding Door
This sliding door in black offers a nice modern look to a space. Its design is very sleek. It is fitted on a silver metal track. The long metal handle is a nice touch and suits the door very well. It adds sleek drama. For pricing
click here
.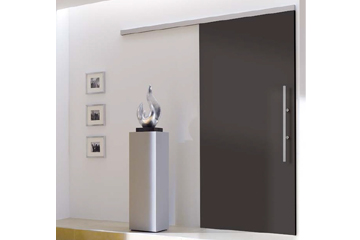 2. Grey Sliding Door
This grey door is able to fit nicely into any space. It is great to use as a separator between a kitchen and a living area for those times when you are needing quiet in the kitchen as you cook. The door will block the noise that the kids are making in the living area when you need peace of mind. For pricing
click here
.
3. Walnut Sliding Door
This is a fine quality door in the wood design that offers a contemporary and traditional look all at the same time. It really adds a nice warm touch to a space and the color is very nice. The long handle makes the door easy to slide open and shut.
4. Sliding Doors for Dressing Room
This white sliding door has a nice brightness to it and looks amazing with the deep gold yellow walls. This sliding door functions as a good door to a dressing room in a shop. It is easy for customers to slide open and shut.
5. Living Room Sliding Wooden Doors with Clear Glass Side Panels
These double sliding doors in the color of white are simple, but elegant. They are set in with some glass panels on the sides of the doors as a nice accent to allow light. They still allow for the unity of the two separate areas to be felt, which is nice.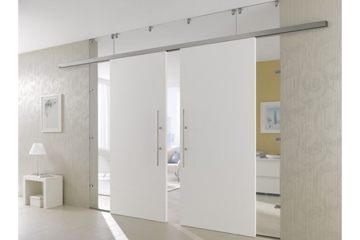 6. Special Design Dressing Sliding Doors
The sliding doors are classy and elegant. They have white panels at the bottom with glass inserts that run about three quarters of the length of the sliding doors. They allow you to see into your closet and dressing room perfectly. Another use for sliding doors includes large bedrooms, where you can surprise the wife with a walk-in closet as well as the en-suite bathroom where is not necessary to use completed frosted glass but ones with some design in it.
7. Oak Sliding Doors matching the oak flooring
This sliding door in a nice light wood tone brings warm charm to the space. The wood grain in the door is lovely. This door provides the nice separation to the areas that you desire.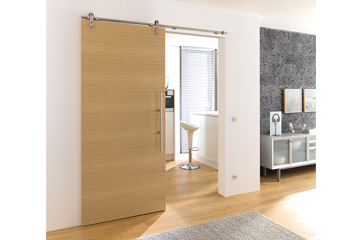 8. Traditional Pocket Glazed Doors for Living space area
These sliding doors have the look of lovely French doors. But instead of being on hinges, they slide. They bring real beauty to your space.
9. Bathroom Sliding Doors with Opaque Glass Panel
This white door is sturdy and highly functional, while also being nice looking. It brings a crisp, clean modern look to the space, while allowing you to close the door for privacy and quietness as needed. This is a nice understated solid door in white that keeps things looking clean and inspiring because of the pleasantness of the white color that is always able to match your décor, even when you change the décor. The door is a nice way to divide your main entrance from your living area to block out the sight of shoes and coats.
Would you build a new house or renovate a existing building? Sooner or later they will deal with the question of interior doors. How should the transition be made from one room to another?
An alternative are made to measure sliding doors available as glass or wood option. They offer the advantage that they need little space, since they are mounted either on the wall or in the wall (pocket doors) so that the door opening in the wall "disappears". Secondly, these doors can be operated almost silently. Sliding doors can provide a completely new living experience. So you can share, for example, dining and living room into two separate areas when you cook. But if there is a celebration planned, the sliding door opens and there is a large open space.