Manufacturer of Solid Oak Doors and Frames, Bespoke Sizes and Designs
Where to find the best Solid Oak Doors in UK? Doors4UK is a UK leading solid oak door supplier for residential project and commercial properties. Ask one of our Door Consultants about the Solid Oak Doors!!
Solid oak doors is regarded as a noble and valuable variant not only in the inner door area, but also in wood processing, which guarantees a constant stability, quality and a long-lasting beauty of the material wood over many generations. In the realization of door projects, your personal wishes come first. They determine dimensions, type of wood, patterns and details of the door, which we subsequently put into action. For a suggestion or in the event that you do not want to have an individual solution, you can look at our door patterns in order to choose the right model for you. With a wooden door from Doors4UK you can not go wrong, and get a competitive price, high-quality and elegant solution for your home or apartment. All wooden doors manufactured by us meet the highest standards of safety, thermal insulation and weather resistance if require. The same applies to durability. Let us know if you want to have more inforamtion about the solid oak doors.
A Fantastic Range of Bespoke Solid Oak Doors and Door Sets Available with width up to 1209mm and heights up to 2472mm.
Complete Service From Survey to Installation.
All workmanship is guaranteed for 2 years for fitted products.
Solid Oak Doors Cross-Wise

Solid

Oak Doors

with horizontal grooves

Solid Oak Doors - special design doors
Solid wood doors - the most famous being the cottage doors with frame and filling - are the oldest door form. Well-finished solid wooden doors have good sound insulation values. Solid wood, however, tends to buckle in temperature and humidity fluctuations, which is why special emphasis should be placed on the highest quality in processing. Solid wood is used mainly in the so-called frame doors, which enclose fills of wood or glass. In the classic version, the oak door is a robust solid wood door. The characteristic natural grain makes every door unique.
| | |
| --- | --- |
| Do you know that we can supply and fit solid oak doors? | Do you know that we can supply and fit glass doors with oak frames? |
| | |
Contact one of our Wooden Door Consultant for more advice.
We are the Wooden, Glass Doors and Frames Experts.
Call 01923 800 111
Email: contact@doors4uk.co.uk
Why Choose solid oak doors from Doors4uk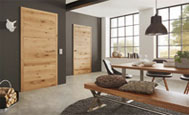 Complete Service From Survey to Installation
Doors4UK provides a complete service that is made of five steps to take you through the entire process of buying German Door Sets and make the process very easy and enjoyable. Our solid oak doors are custom design and manufactured to fit your personal style to highlight the artistic appeal of your personal space.
We Care About Your Project
Doors4UK offers 2 Years Workmanship Warranty for any products that are fitted by us. This is because the company is dedicated to building lasting relationships. At Doors4UK we understand that no business can stand for long without having fully satisfied customers.
Competitive Transport Cost
Doors4UK has chosen to work with transport companies based on reputation, so we can ensure that we can get a reputable and reliable transport service and the economic cost, no matter how large or small you order. Most of our products are shipped by pallet due to the size and weight of wooden and glass doors. The carriage charge depends of the size of the order, goods ordered, and delivery address.
Doors4UK is able to manufacture extra wide solid oak door up to 1235mm and the height of 2485mm is definitely a nice and expensive feature. More than that even wider doors( up to 2400mm) can be manufactured from two door leafs connected on site. Therefore for those dimensions the scale of the house is important as extra wide and tall doors would look silly in small apartment.
German Quality Doors and Door Sets
An increasing number of people are turning away from plain ready to paint, unvarnished or inexpensive wood imitations internal doors from the DIY stores. Real wood and laminate (man-made veneer) doors is the new trend of made to measure solid oak doors and frame/lining of high quality veneer which are making their entrance to UK modern apartments and houses.