Soundproof Door Sets - Manufacturer of Acoustic Doors
Custom-made doors with wide range of finishes
Fire and Non-Fire Rated Doors up to H2500mm

In our own house or at work, we all want to feel calmer and improve our level of concentration without hearing unpleasant sounds around us. Doors can remarkably contribute to a much more pleasant environment, if they are properly selected. Our range of high performance laminate, real wood veneer or painted internal door sets, offering sound reduction of up to 47dB*, are the perfect solution to domestic, commercial and workplace noise problems.

Any kind of sounds will no longer be irritating or stressful when you have this type of doors. As a matter of fact, not even the little noise can be heard anymore, because of the insulated material the door is made of. These interior doors can give you the peaceful life that everyone desires, as it is very important for all the human beings to feel calm, especially during sleeping time.
*For our range of soundproof doors and price see the table below.

These soundproof bespoke internal doors have a wonderful function, but they also need to be produced from quality materials they need to have a proper configuration, which we can offer. Soundproof doors are in high demand especially for apartments and the most popular ones are the soundproof fire rated doors.

Technical Specifications for Soundproof Doors
Click on pictures to make them bigger


Our soundproof made to measure interior doors can be manufactured as non-FD30 or FD30, made of a full engineered core, ready to satisfy any customer's needs and desires. Besides a full engineered core, FD30 soundproof doors also have an intumescent strep inside. Soundproof FD30 or non-FD30 doors can be provided as European Style or British Style with different finishes such as laminated, real wood veneer or painted and even with glazing. A European Style interior door is a door leaf that is placed on the frame. The rebated door sets have a lip that overlaps the frame, providing a good seal against draft. This helps a room retain its warmth and, in the right conditions, can help reduce energy costs. A British Style soundproof internal door is the door that comes at the same level with the door frame, creating a flush finish. The frame and architrave for European Style and British Style door sets come as finished products from the German factory and they can be supplied in the same finish as the door or in different finishes depending on customer's needs and desires. The frame for both European and British style doors have a rubber gasket on stop of it, which helps with soundproofing and it allows a smooth shut of the door. The rubber seal matches the finish of the frame and architrave. To ensure a good level of soundproofing, this type of internal doors comes equipped with a drop-down threshold. The drop-down threshold is an automatic door seal that seals the door when closed by pressing it down on the floor.
Contact one of our Security Door Consultant for more advice
We are the Wooden, Glass Doors and Frames Experts
Call 01923 800 111
Email:

contact@doors4uk.co.uk
Drop Seal or Draft Excluder for Soundproof Door Sets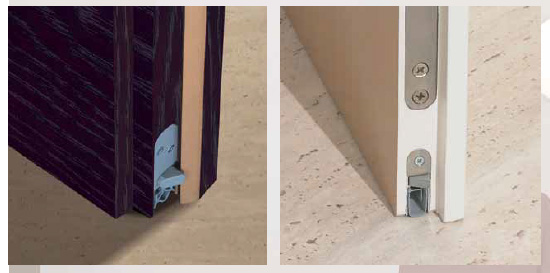 Sound Reduction Index
Click on picture to make it bigger
In DIN 18101 (Building Sound Insulation) there is a set of minimum requirements for sound insulation for various application areas and sound insulation levels. The required sound insulation Rw refers to a built-in construction door element, without adjacent components (walls, ceilings, floors). The values of sound insulation that are measured in the laboratory can be transferred in practice. The Allowance value is the difference between the door elements measured in the laboratory and the actual soundproofing in construction. The Allowance for doors is 5dB. The soundproofing tested in laboratory for the door set is indicated by Rw, P (P = test value). Moreover, there is a value of Rw, R and the "R" stands for the calculated value: Formula: Rw, R= Rw, P – 5dB (Allowance). For example, the test value ( Rw, P) should always be 5dB higher than the actual desired value of soundproofing in construction. For Instance: If on site, a sound reduction index of Rw, R = 27 dB is to be achieved, one Door element of Rw, P = 32 dB must be used. Doors4UK acoustics doors range includes:

Click on picture to make it bigger
​
Click on picture to make it bigger


A Fantastic Range of Soundproof Doors and Door Sets Available
Complete Service From Survey to Installation
All workmanship is guaranteed for 2 years for fitted products
The above prices are for soundproof door sets. We can supply door-only as British Style soundproof SK1 and SK2 door of 40mm thickness.
Click on picture to make it bigger
Interior soundproof doors bring you so much silence, whereas it truly provides a great style of life that you never felt or experienced before. Soundproof bespoke interior doors can be manufactured as single or double doors for wider openings.
Types of glazing for soundproof doors
The glazing for soundproof doors is available either as clear standard toughened glass of 8 mm thickness or frosted laminated safety glass of 9 mm thickness. The glazing designs provided for soundproof doors differ from a level of soundproofing to another. For glazed soundproof doors, please contact us.
Glazing design available for SK1 soundproof doors either clear or frosted: LA1, LA3, LA4, LA5, LA6, LA8, and LA11
Click on pictures to make them bigger

Glazing design available for SK2 soundproof doors of 45mm door thickness with clear or frosted laminated safety glass of 9 mm thickness: LA1, LA4, and LA11
Click on pictures to make them bigger
Glazing design available for SK3 soundproof doors of 70mm door thickness with clear premium laminated safety glass of 9 mm thickness: LA1, LA4, LA11
Click on pictures to make them bigger